IT outsourcing is now far more than just a trend or innovation. The rapid development of business in the US suggests that the shortage of local software engineers will reach 1.2 million in the next three years.
In addition, experts expect that companies from America will outsource about $145B by the end of this year.
Eastern Europe is a home for over 1,000,000 well-taught, talented developers and one of the most effective IT outsourcing destinations. It is a happy medium between quality and price.
This article will discuss the peculiarities, principles, and main facts of IT outsourcing to Eastern European countries.
Benefits of Outsourcing to Eastern Europe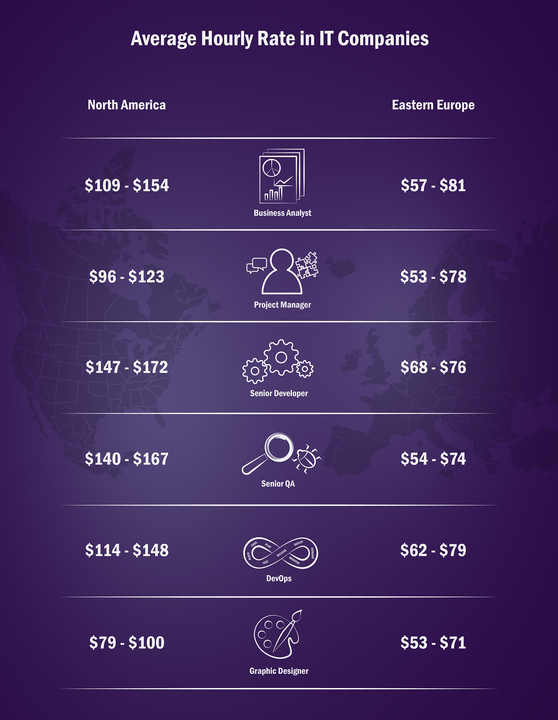 Like any international business, outsourcing also comes with certain risks. But let's start by looking at the advantages that outsourcing can bring to your project.
Allowing IT outsourcing companies located in CEE (Eastern Europe in particular) to solve IT-oriented tasks and issues a customer obtains the following benefits:
Considerable budget savings.

Ability to focus on core competencies.

Extensive experience as an outsourcing subcontractor.

Speed increase in project tasks solutions.

Reduced capital investments.

Full-time access to both IT innovations and high-qualified IT experts.

Internal processes optimization.

Huge talent pool.

High-quality technical education.

The global tech community.

Outstanding cost/quality ratio.

Impressive startup experience.

Improved manageability.
Pitfalls of Outsourcing to Eastern Europe
However, despite the attractiveness of IT outsourcing, you should be aware of the possible negative consequences of transferring part of your business ideas to another company.
First, by such a decision, a company trusts another organization a share its commercial secrets, exposing itself to the risk of confidential data leakage. Sometimes an extra effort should be made to hide some of the data on the application architecture and key business processes from an outsourcing partner.
Certain types of risks can be reduced through appropriate administrative, legal, and organizational measures (to agree with an outsourcing partner an undertaking of a confidentiality agreement and the presence of regulation on commercial secrets requirement, classifying the content of outsourcing work as its part).
Always remember about security and ask your outsourcing partner about the measures it takes to protect the privacy of your data.
In addition, some other points should be paid attention to.
A foreign country has its own tax laws. Therefore, getting acquainted with it at the planning stage is advisable.

High demand begets intense competition in a Hiring Market. You should carefully choose the team you plan to outsource your project to.

Farness can reduce team communication. Try to foresee proper communication at all stages of the development of your project. Make sure that your partners, including developers, are fluent in English.
The most IT-competent countries of Eastern Europe
Ukraine
Ukraine is one of the most developed countries in Eastern Europe. In 2017, the Ukrainian information technology industry consisted of about 158,000 experts.
This number has multiplied over the last five years. About two hundred eighty-five thousand specialists worked in this area in 2022.
It is almost a third of the total number of Software development specialists in Eastern Europe. At the beginning of 2022, there were already more than 2,300 IT companies in Ukraine.
Even in war conditions, despite the force majeure, Ukrainian developers continue to fulfill their obligations to customers at the highest level.
Ukrainian specialists are strong and experienced in developing custom software, artificial intelligence, and blockchain technology.
We have compared local and outsourcing rates and concluded that Ukrainian programmers require 45-55% less than local U.S. developers ( incl. salary, taxes, vacation expenses, etc.).
But it's not only about the price; the Ukrainian market offers highly-skilled developers and IT specialists. The cost of services of Ukrainian developers is, on average, $45 - $70 / hr.
Poland
According to Clutch, at the beginning of 2022, Poland already had over 250,000 IT experts. Today Poland has more than 700 IT companies.
A sufficiently high level of English proficiency allows Polish specialists to cooperate successfully with clients from the other side of the Atlantic. A Polish software engineer's services cost $50 - $75 / hr.
Bulgaria
Bulgaria has over 800 custom software development companies, employing about 72,000 specialists in IT outsourcing.
The largest Bulgaria IT hub in Sofia accounts for 70% of developers. IT experts from Bulgaria can offer you quality services at an affordable price, namely $40 - $65 / hr.
Reasons to Choose Eastern Europe as IT Outsourcing Destination
There are many reasons to choose Eastern European countries for outsourcing the IT area of the business.
Highly skilled labor. The legacy of a strong engineering school, which had a significant emphasis on engineering and sciences back in the day, many of the resources from the countries of this region obtained deep knowledge in computer science, and the labor cost is much lower than it is in the EU and the US.

Cultural similarities. Eastern Europeans have more in common with Westerners regarding business culture and superficial human qualities such as the sense of humor and cuisines, and the creative minds of Eastern European developers are almost legendary.

Time zones. Little or no time difference at all creates perfect conditions for real-time meetings, allowing customers to fully monitor their development teams; personal meetings are just as real because Eastern Europe is an actual nearshoring for the Western part of Europe.

Ever-growing labor market. With constant resource shortages in the EU and the US, growth in the IT field of Eastern Europe keeps on increasing, leaving the latter far behind.