Mobile App
Development Company
We craft the most novel and eye-catching mobile
apps. Wow your users with us!
Mobile App Development excellence
For almost 20 years, our developers have been assisting customers across diverse industries with their projects. We've created a whole system of mobile web app development tools and practices to meet your highest expectations.
Either for a start-up or an enterprise, we can offer a wide array of mobile app development services based on business requirements. No matter how sophisticated your requirements are, Zfort Group, as a mobile development company, will be able to cover the whole mobile application development cycle.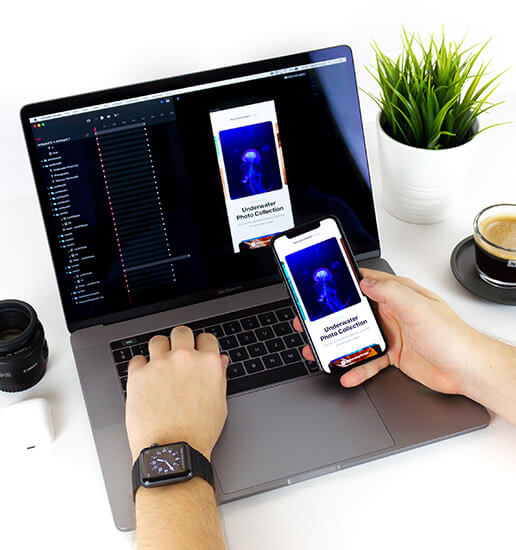 156 mobile projects are done
Our customers can expect a resilient and communicative team that delivers on time and within budget.
Here at Zfort Group, we love driving apps from vision to reality and will be happy to craft the most novel and eye-catching app to ramp up your business. Let's talk!
Mobile App Development Services
Our mobile app development solutions are designed to give you the best shot at success.
With the deep understanding and expertise of native app development, we know what it takes to create a highly performant mobile app for users on any platform. Go mobile with Zfort Group, we offer:
iOS App Development
Mobile applications for iPhone and iPad take up a considerable part of all delivered projects. Zfort Group delivers faultless mobile solutions.
Our mobile app developers drive adoption and guarantee user satisfaction by:
Keeping up with the industry best practices, Apple latest guidelines, and tools.
Providing excellent performance on the basis of native programming languages.
Cross-Platform App Development
Zfort Group mobile application developers build digitally transformative experiences ensuring mobile app solutions run smoothly on various platforms. Nurtured by market hottest cross-platform React Native, our cross-platform mobile products feel truly native. As a result, you receive consistent functionality and intuitive UI/UX on any device.
Cross-platform apps are the fittest choice for customers seeking to maximize their project installation base while minimizing the overall cost of their project.
We combine the power of mobility and cross-platform compatibility for your business.
Android App Development
Zfort Group is a reliable Android app development company. Its talented team of full-stack mobile app developers always delivers seamless experiences by:
Creating visually pleasing apps for smartphones, tablets, and wearable devices optimized to increase your business revenue.
Mastering every inch of the Android platform in its core underpinned by the use of the latest trends in mobile application development.
Talk to Mobile Development Expert
Are you looking to create an impactful mobile app experience? Our mobile team can help you build
a solid app fast with our pre-developed modules and features. Don't waste your time to go mobile!
Why is Zfort Group the Best Company
for Mobile App Development Services?

Experience in the Field
To become masters at our craft of mobile development services, we have been creating robust custom software for many years.
Zfort Group has managed to establish a reputation as a reliable mobile app development company.

Pre-made Modules
Zfort Group mobile application development services will help your business leap forward, leveraging the most effective and latest technology available. Our ready-made mobile solutions will help you launch fast with all the necessary features.

Highly Qualified Team
We are dedicated to staying ahead of the mobile application development curve.
Our talent network was created by choosing the experts based on their commitment to quality and their exemplary skills. Similarly, every mobile app developer learns the latest industry tools to continually improve the skill set.

Regular Communication
Here at Zfort, we are flexible, helpful, and lively. We are a mobile app development company that conveys complex concepts clearly. Regular communication guarantees that delivered results meet the expectation, and all issues are resolved efficiently.

Smart Budget
We are not a bulk project company. We put passion into every project.
At the same time we guarantee that our mobile application development services will be delivered on time and on budget.
Mobile App Development Process
Our approach to mobile development services delivery is
shaped by challenges we face. Here is a quick overview.
Business Analysis
At this stage we gather, analyze, and specify requirements. Having discussed your idea, we estimate the app viability.
If it is an existing app, we suggest detailed ideas for its improvement with our mobile software development services.
UX/UI Design
The next stage involves creation of research-based wireframes and UX prototypes for your app, as well as texts for user interfaces.
App Development and Launch
Every application developer contributes to a final visual representation of your app, implementing it in code. At this stage the app gets published, so you can start monetizing.
Testing
We test your app functionality at every stage of the workflow to ensure its quality. At this step we scrupulously test usability, functionality, compatibility and performance of the app. Your product goes through several testing phases.
Support & Maintenance
After all of the testing and quality assurance, our mobile application developers deploy the end product on respective app stores.
Throughout the whole app lifecycle, our expert team will help you maintain perfect app experience.
Mobile App Niches We Focus On
Our mobile application development company is skilled in various
niches, we create almost every sort of applications.
Taxi Booking
A taxi app may consist of two separate in-app apps: driver's and passenger's.
Apart from basic functionality, taxi apps require map APIs and payment gateways.
Healthcare & Medical
What about welfare? Go with an app that helps you to manage your staff schedule effectively, make appointments, and a whole lot more, delivering top-notch service experience for the users.
Fitness
Each day hundreds of apps are downloaded from the health and fitness category.
A fitness app can open new roads for your business by raising the awareness of your brand, extending your customer base, and enriching their experience.
On-Demand
What's trending? Order an on-demand application development to reach out to your customers.
We provide on-demand app development services for any industry.
Travel
You can make traveling real fun for tourists by bringing the services online. A mobile app will streamline workflows, decrease employee training costs. Custom booking engines and travel management solutions will bring more satisfaction to the users.
Real Estate
A mobile app is an opportunity to improve communication, productivity, and performance in the real estate industry.
It will provide seamless experience both for real estate offices and home buyers.
Banking
The banking industry is an inevitable part of our lives. Still, no one wants to spend the whole day to get things done. This explains a high demand for advanced banking solutions powered with IT. Besides, using such an app enhances users' security.
Social media
Although social media niche seems to be a crowded market, all you need is to come up with a unique concept.
Fast technology development opens up new opportunities for bringing new ideas to life.
Marketplace & Shopping
Bring together large numbers of buyers and sellers.
We'll assist you in building a B2B, B2C, or C2C marketplace, setting your objectives in the center, and meeting customers' expectations to boost conversions.
We Are Happy to Listen
Tell us about your project to get the ball rolling
Would you like to eliminate the
pain points of your IT operations?
Make the most of our two-decade experience of developing software products to drive the revolution happening right now. Contact us to learn more about the Mobile App Development solutions.