According to one forecast, the insurance software development market is expected to reach $11.5 billion by 2022. That compares to $10.4 billion in 2017 and equates to a compound annual growth rate of 2%. Different insurance software companies offer different types of software, with some specializing purely in insurance software while others cover a range of different industries. Some insurance software development companies have higher rates than others, but as a general rule, you get what you pay for.
Are you in search of a perfect insurance software solution for your company? You've come to the right place as we enjoy designing and developing custom software solutions for companies with specific requirements. Well, just like yours. We can dive deep into your business processes to discover the ways and potential to take your company to the next level of efficiency and profit. Just talk to our insurance software expert!
We provide custom software development services for startups, mid-sized businesses, and established enterprises.
Navigating the complicated landscape isn't easy, especially when it seems as though each company is promising the earth but failing to deliver on it. Reading reviews can help, because they'll give you a more honest appraisal of what you can expect if you work with them, but they'll only get you so far. You can usually get a better idea of what a company is like by asking a few questions of their support team and gauging how they respond.
But you have to start your search somewhere and so with that in mind, let's take a look at some of the best insurance software that's out there on the market.
Best insurance software development companies
1. Strategic Insurance Software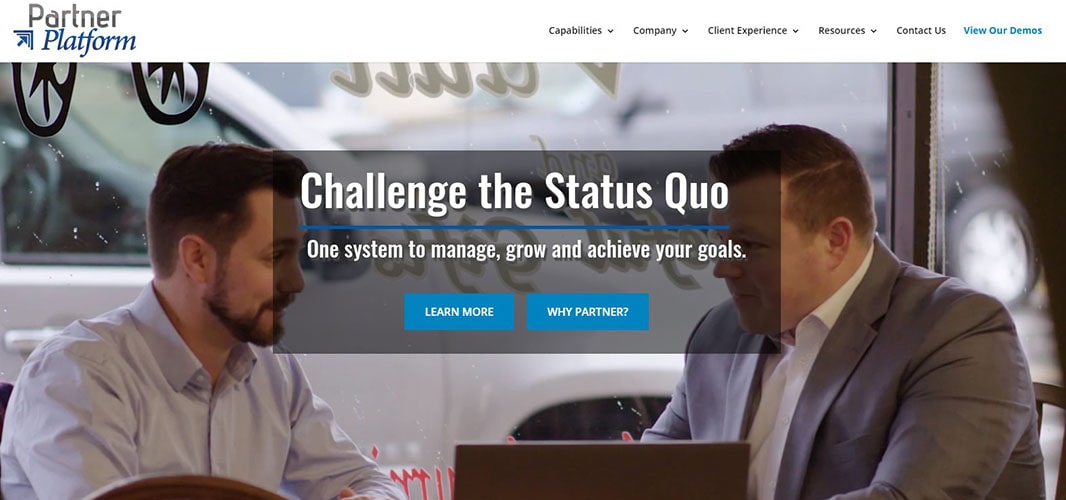 The clue is in the name here. Strategic Insurance Software is an interconnected platform that integrates sales, marketing, management and more, providing a suite of analytical and reporting tools that can change what's possible. It also includes integration with Microsoft Outlook and built-in support for text message marketing and more.
The interesting thing about this entry on our list is the fact that it's specifically designed to help you to improve retention rates and to improve the experience that you offer to your clients. It does this through everything from marketing automation tools to helping you to win those clients in the first place through its professional proposal creator. There's a lot to love here.
2. Surefyre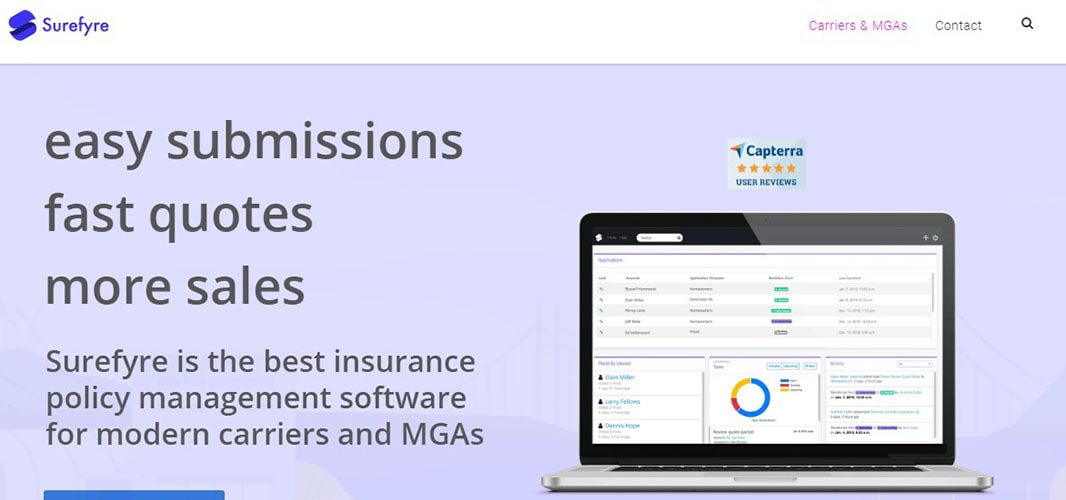 Surefyre is a sure fire way to manage insurance policies and is designed specifically for modern carriers and managing general agents (MGAs). The cloud-based platform helps to drive efficiencies by automating key processes such as the underwriting and binding processes. It's easy to integrate across the company and is particularly worth trying with larger teams.
That's because it offers a range of advanced collaboration features including the ability to assign and monitor milestones. Underwriters and agents can both use the same software, helping to make sure that your data is centralized, up-to-date and accessible by all, and it integrates with a range of other software with new integrations added regularly.
3. AgencyBloc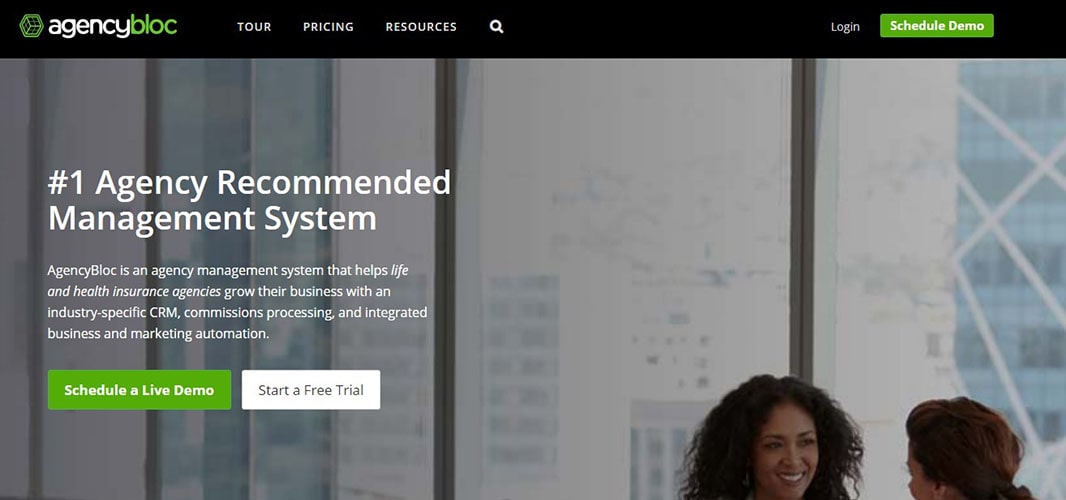 AgencyBloc is specifically designed for agencies that sell either life or health insurance, which makes it a good pick if you serve either of those industries. It also includes a CRM and built-in marketing automation tools and so it can give Surefyre a good run for its money. And if you want to give their software a go without having to make a big commitment, they also offer a free trial.
On top of that, the software is entirely cloud-based and available round the clock, with pretty much everything you could ever ask for. It even includes some built-in functionality for tracking and processing commissions to help make sure that you get paid every single cent that you deserve. It's a little bit of a niche piece of software, but if you fit into that niche then it's a match made in heaven.
4. HawkSoft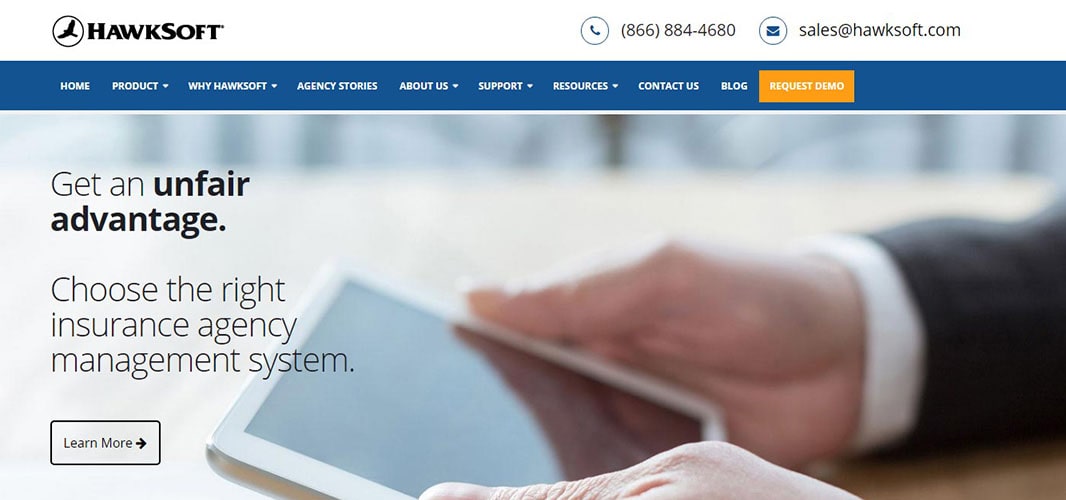 Hawksoft is so sure of its software that they say that it gives them an unfair advantage, which is probably why 97% of its customers would recommend it. They also have a whopping retention rate, with agencies spending an average of 18 years with the company.
The main advantage of using HawkSoft is that they clearly care about retention, and that carries across to the system that they've designed. It'll automatically alert users when clients need attention so that you can go out of your way to offer that surprise and delight that encourages them to stick around in the first place. It will also flag cross-sell and upsell opportunities, ultimately helping you to keep customers for longer while simultaneously making more money from them.
5. Applied Systems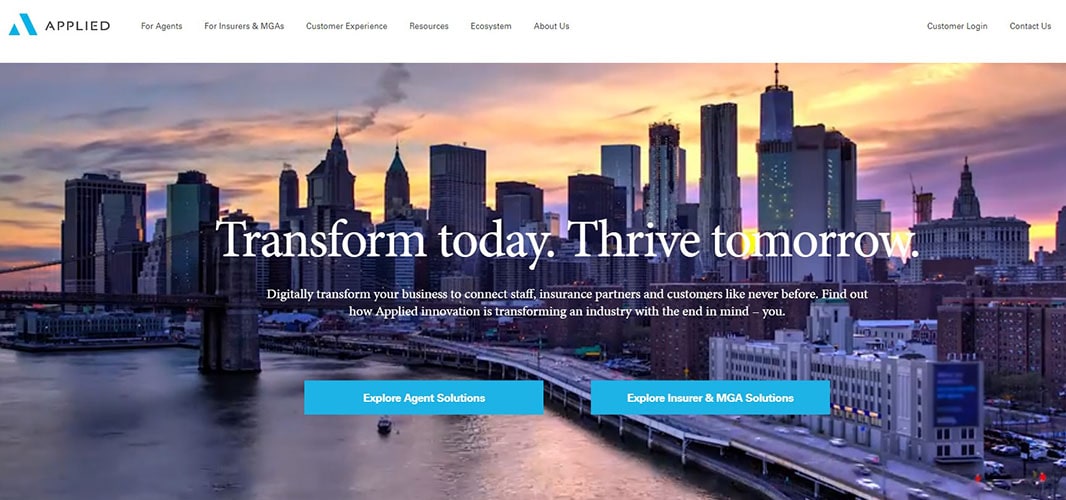 Applied Systems makes it their mission to spearhead the digital transformation of your business, tapping into new technologies to improve communication. While other companies on this list focus more on data storage and data processing, Applied Systems is all about improving communication between staff, leads, partners, suppliers and more.
Other advantages to Applied Systems includes the fact that they occasionally carry out their own original research and that they're able to provide instant quotations from a wide range of different insurers. All in all, it's a decent enough all-rounder, but it does lack some of the advantages of other specialist software.
6. Adaptik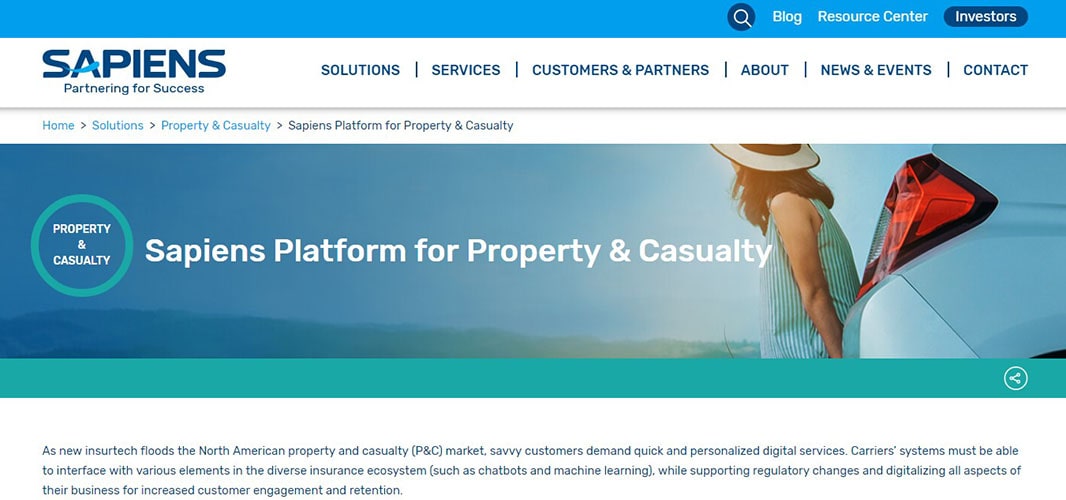 Adaptik offers a range of flexible and scalable solutions that are specifically designed for property and casualty insurance. The goal is to take complicated workflows and to simplify them while identifying "opportunities for sustainable growth".
What's particularly interesting here is that they offer a choice of two different installation options: either on-site or in the cloud. Cloud storage means that the system can be accessed from anywhere with an active internet connection, while on-site installation can help to ensure data security and compliance.
7. Insly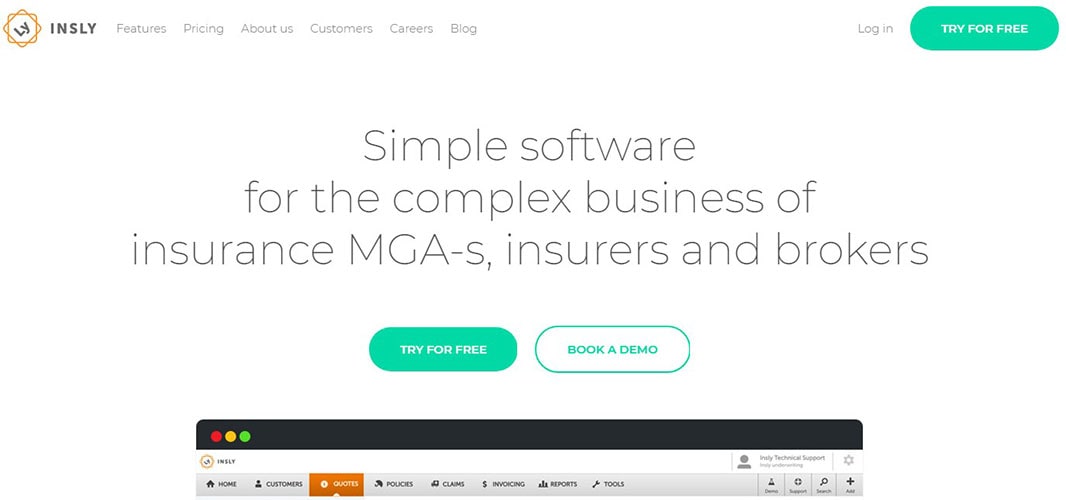 Insly specifically targets managing general agents (MGAs), insurers and brokers and is already trusted by over a hundred different companies in over 52 companies. They've been trusted to generate around 1.5 million policies and written premiums worth €107 million. With that kind of backing, you can be sure that they know what they're doing.
This is reflected in their team, which is made up of experts in their field who clearly love the work that they do. It shows in the software, which is intuitive and easy to use. They even have a chatbot called Tom that's built straight into their website and which allows you to get a rough estimate of how much Insly might cost you.
8. ISI Enterprise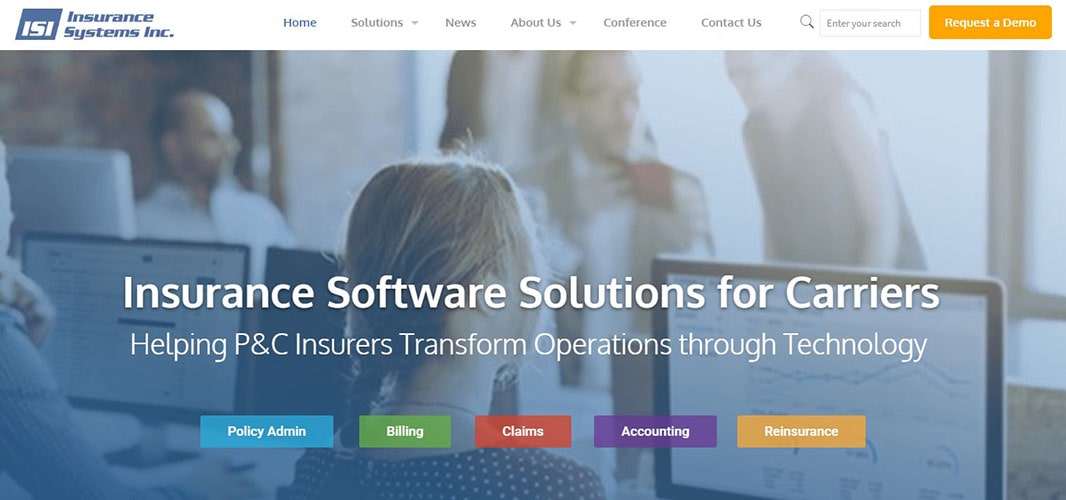 ISI stands for Insurance Systems Inc., a company which was founded over twenty years ago with the goal of modernising the way that insurers go about their business. Initially focusing solely on property and casual insurers, they've since expanded their offering to cover all areas of the insurance industry.
This gives it the unusual distinction of being both specialised and generalist software. They're also notable for their commitment to the software's ongoing development. It's not just a case of creating some software, selling it to people and providing ongoing support. Instead, they have a dedicated team of business analysts, architects and quality assurance analysts whose responsibility it is to continue to develop new features and functionality.
9. Chetu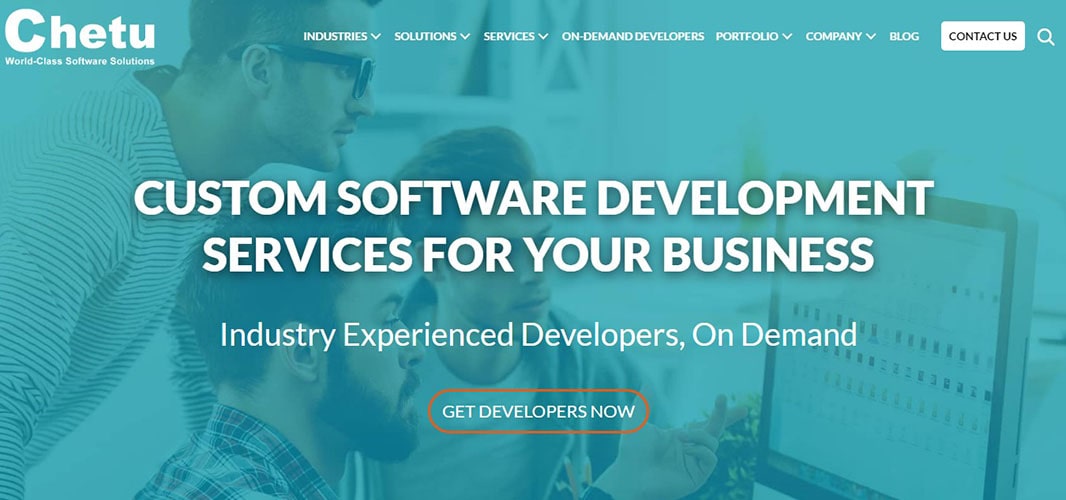 Chetu offers custom software development and promises to offer "industry experienced developers on demand". These are the guys to go with if you don't just want something out of the box, because they'll get to know your business and build something specifically for you. That comes with an accompanying price tag too, though.
Another downside to using Chetu is that they don't specialise in the insurance industry. They cover everything from agriculture and aviation to supply chain and transportation, serving the insurance industry along the way. That isn't necessarily such a bad thing though, because they can bring learnings from different industries to improve their software across the board.
10. EZLynx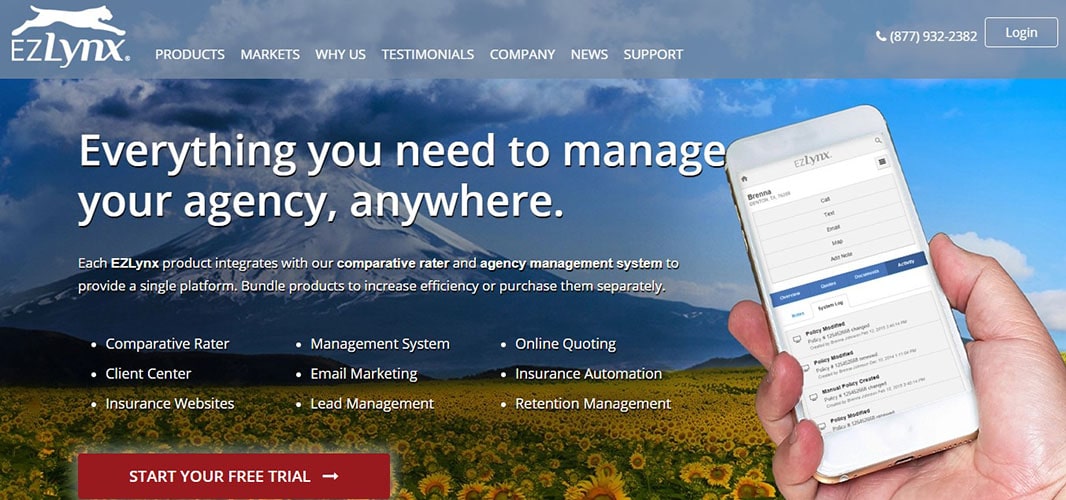 EZLynx is designed to be a comprehensive platform to help you to manage an agency. If you're looking for a single platform that will cover all aspects of your agency, EZLynx has got to be worth a try. You can even bundle different products together and you only have to pay for what you actually use.
When it comes to streamlining your workflows, EZLynx is one of the best pieces of software out there. It also offers a tool called Agency Insights, which mines quote data and identifies ways to sell or cross-promote to different targets. Eventually, it'll pay for itself.
Last, but not least
Not all insurance software development companies are the same, but with a bit of luck, this article has helped to give you a good idea of what's out there on the market. It's also important to bear in mind that smart contracts are increasingly being used for insurance policies because they can speed up the claims process and avoid shortfalls while people are waiting to receive reimbursement. They could also help to identify fraudulent claims.

Still need help wrapping your head around insurance software development? Don't suffer in silence. Here at Zfort Group, we start by getting to know you and your customers and walk you through the process to make sure that your software is the best it can possibly be. So if you need a little help taking your software to the next level then be sure to get in touch with us. We'll be happy to help!
We provide custom software development services for startups, mid-sized businesses, and established enterprises.