Blockchain has become such a widespread buzzword that people forget that there are different types of Blockchain with different strengths and weaknesses. Picking the best blockchain for your specific use case requires a thorough understanding of the leading technologies, and there's no single, easy answer when it comes to which one is "best".
In this article, we're going to make it a little easier for you by taking a look at two of the most popular blockchain solutions – Hyperledger and NEM – and giving you the lowdown on what you can expect from each of them.
Comparing Hyperledger and NEM
Let's get started by taking a brief overview of the two blockchains and highlighting a few of the similarities and differences between them.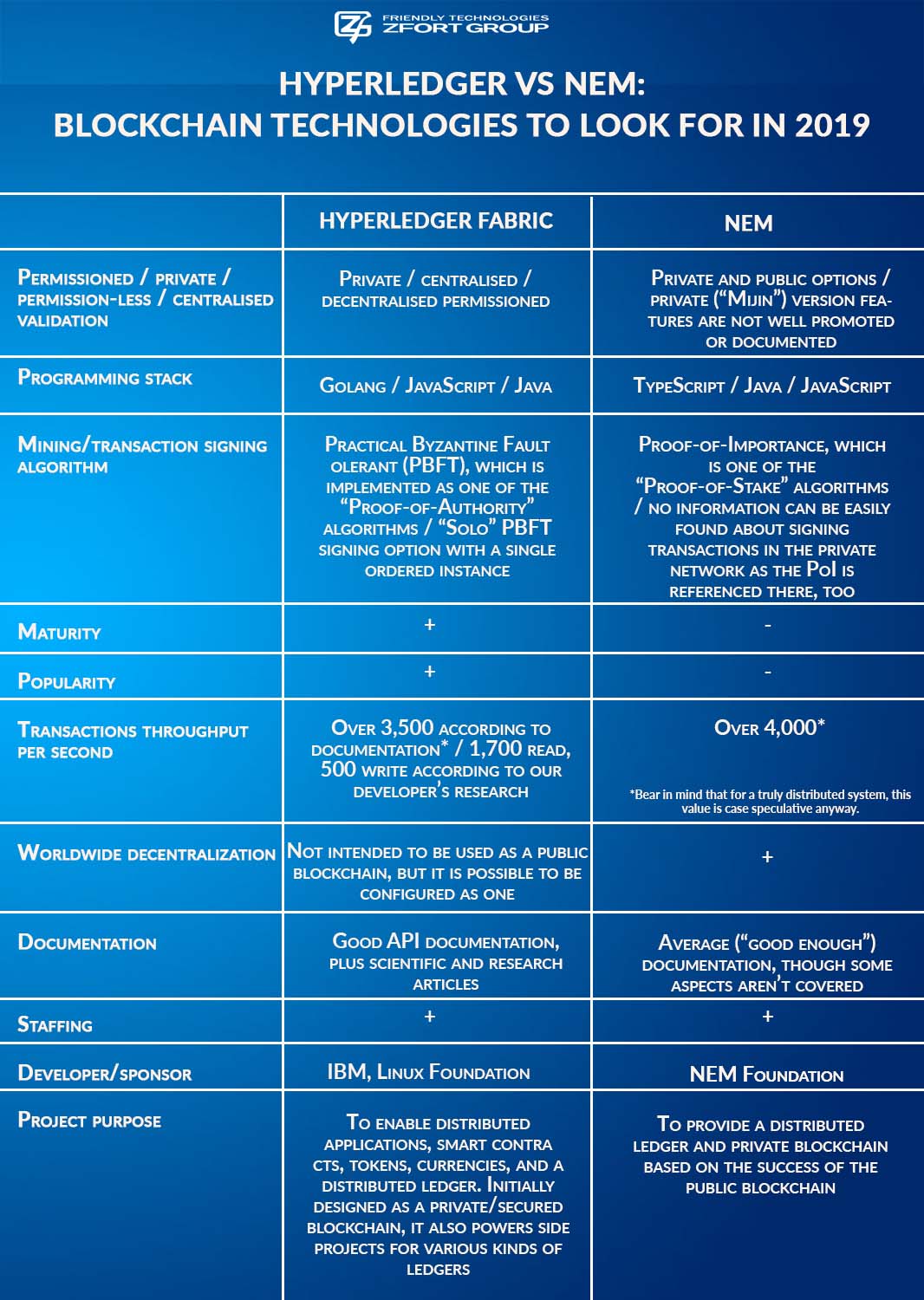 Both Hyperledger and NEM have their use cases, but their different technical capabilities mean that they both have unique drawbacks and advantages.
But before taking a closer look at how the two of them compare, there's a fact we can't ignore.
Nem is struggling now. It all happened when NEM (XEM) faced one of the greatest crypto hacks of all times. As a result, NEM has lost over $500 million of worth. But still, even following such a great recession, NEM might be a rewarding blockchain option in the long run. Read more about the Continue reading to get a better idea of these two platforms.
Technical and use-case difference
Hyperledger Fabric (HLF) is an enterprise-level permissioned blockchain that's designed with flexibility in mind. Built using "chaincode" (HLF's term for smart contracts) and written in Go, it's relatively easy to develop with and is known for its fast compile time. The most commonly used functions are PutState, GetState, GetHistoryForKey, and DelState.
NEM, meanwhile, is noteworthy for its scalability and for its full decentralization. It can also handle hundreds of transactions per second at a much more rapid rate than its rivals, which makes it a reasonably good choice when you're trying to future-proof. It's reportedly faster, safer and easier than other blockchain solutions.
That means that Hyperledger tends to be used by larger companies rolling out company-wide blockchains, while NEM typically works better for smaller organizations that are hoping to scale and grow. The main thing is that you need to put some thought in up front and to identify the goals and the scope of the blockchain. With that information in mind, it becomes much easier to decide which blockchain is the best for you.
Why just these two?
Hyperledger and NEM aren't the only two blockchain solutions on the market. If neither of them suits your particular use case, there are other options to consider including:
1. TRON: Tron is positioned as a blockchain that targets purely decentralized applications. This means it's not the best choice for centralized solutions.
2. EOS: EOS is partly decentralized, but it's also controlled by "block-producers" through a "delegated proof of stake" algorithm. No options were found to deploy fully custom private cloud infrastructure, but it may be possible.
3. Zilliqa: Zilliqa is a scalable and secure blockchain platform that specializes in hosting decentralized applications. Its high throughput aims to reduce network congestion, high transaction fees, and poor security.
4. Cardano: Made up of experts from around the world, the Cardano team is currently in the bootstrapping phase, making updates to the code and debugging. On their website, they say, "We will improve the design and make integration through APIs to third parties simpler. We will then move [to the next phase], where the network becomes decentralized."
5. IOTA: Led by the IOTA foundation, this platform is all about "redefining trust, value and ownership" through a permission-less ecosystem. It has a particular focus on powering interconnected and autonomous devices.
6. Ethereum Classic: You've probably already heard of Ethereum because of its cryptocurrency. Ethereum Classic is a continuation of the original Ethereum blockchain and offers smart contracts and various other features.
7. Waves: The Waves platform allows you to store, trade, manage and issue digital assets more easily and securely. It's most notable for its popular cryptocurrency wallets which support the majority of currencies.
8. VeChain: VeChain is an enterprise level public blockchain which aims to provide a comprehensive governance structure with a robust economic model. Like IOTA, it has a particular focus on powering the Internet of Things devices.
However, it's important to remember that none of these alternatives fit our requirements in terms of the best private permissioned blockchain. That battle is between Hyperledger and NEM.
What's Next?
Now that you are aware of various blockchain solutions available, the next step is for you to determine which option is the best for you and your particular use case. The good news is that if you're still not sure which blockchain to pick, we'll be happy to help you to make a decision. Just contact our blockchain experts for a quote.