eBay is famous for a variety of reasons, and that's true amongst both buyers and sellers. It acts as the perfect middleman, connecting shoppers with sellers whether they're huge multinationals or regular people just selling a few of their old belongings to raise some cash.
Do you need to build an ecommerce store, update or make a new extension? We can help!
And with over 180 million eBay users worldwide, it's not surprising that so many people want to imitate it. But what exactly do you need to build a multi-vendor marketplace like eBay? Let's take a look and find out.
What Do You Need to Know About eBay?
eBay was founded by French American Pierre Omidyar back in 1995 and, along with Amazon, was one of the early success stories of the internet era. It started out as AuctionWeb, which was launched on September 3rd in 1995, as part of a wider site owned by Omidyar.
The story goes that Omidyar sold a broken laser pointer as one of the first items and contacted the winning bidder to check that they knew it was broken. The buyer replied that they collected broken laser pointers, which was enough to show Omidyar that he was on to something.
Passed years, eBay has become a multinational behemoth, even if it made it there almost accidentally. To begin with, Omidyar thought of it solely as a hobby, but then his hosts told him that he was receiving so much traffic that they'd have to charge him more and upgrade him to a business account. That's when he decided to start charging users to post their listings.
So what's the lesson here? Well, entrepreneurs should remember that a certain amount of luck comes into play. Omidyar never started with a plan to create the world's largest auction site. He just saw that the opportunity was there and then went for it. Sometimes that's all you can do.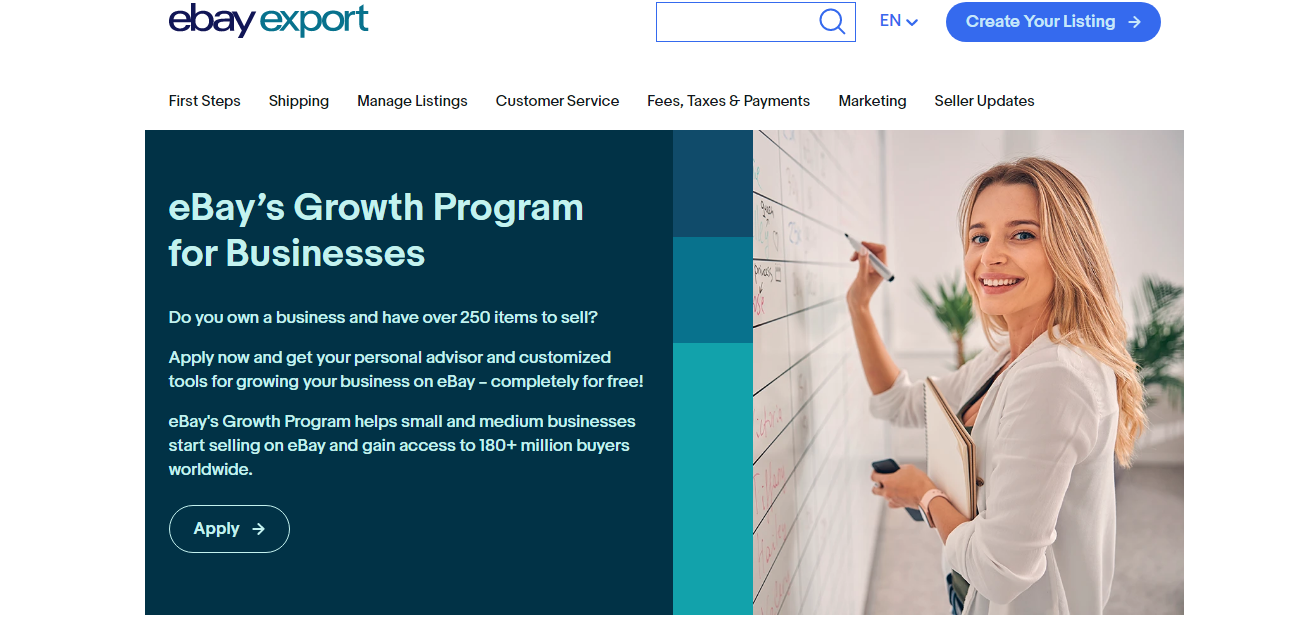 eBay Monetization Model
eBay has a variety of monetization methods. The most obvious is that they charge sellers a small fee to list items on the site and take a small commission out of all of the sellers' payments.
The site also makes money by licensing its technologies to third parties. A stratagem that first started in 1996, when they struck a deal with Electronic Travel Auction to sell plane tickets and related travel products via an auction format.
Like Amazon, eBay's early growth was fueled through niche listings, with people turning to the site to find items that they couldn't get hold of elsewhere. A perfect example of this was in 1997 when Beanie Babies made up 10% of all of the items sold on the site because collectors were struggling to find them elsewhere. The company's manufacturers, Ty Inc, tried to create their own online store, but it was unable to replicate eBay's functionality.
By 2001, eBay had the world's largest ecommerce user base, with 12 million registered users and over 4.5 million listings at any given time. At around this time, they started to develop their acquisitions strategy, most notably by purchasing PayPal in October of 2002 for $1.5 billion, a deal that seems almost outrageously cheap in hindsight.
It makes its money through a range of different services, from final value fees of around 10% of the item's value to insertion fees, advertisements, and additional charges for premium listings that include features like subtitles.
eBay also makes a sizeable chunk of money through its eBay Partner Network, in which it allows affiliates to receive payments in exchange for directing traffic to the site. These affiliate visits lead to increased sales, leading to more income from eBay and more than pays for itself.
What Can You Learn from eBay?
As with Amazon, one of the most critical lessons on offer from eBay is that you should never underestimate the value of a comprehensive acquisitions strategy. As well as strategic purchases like PayPal, which allowed them to corner payment processing and effectively take a second cut out of all of the sales made on the platform, they also purchased Skype, which was later sold and taken over by Microsoft.
However, it should be noted that many of eBay's purchases, including PayPal, have since gone back to being independent companies or sold on to other buyers at a profit. This provides us with another one of our lessons, which is that it's essential to be as flexible as possible. Locking yourself into a single strategy is a sure-fire way to limit your expansion.
And, of course, we should remember the title of this post. We're talking about multi-vendor sites, and it's the vendors that give eBay its strength. In many ways, the remarkable thing about eBay is that they were able to provide the infrastructure, and then the vendors did the rest of the work for them. If you're able to do the same and incentivize vendors to use your website, you've already done most of the hard work.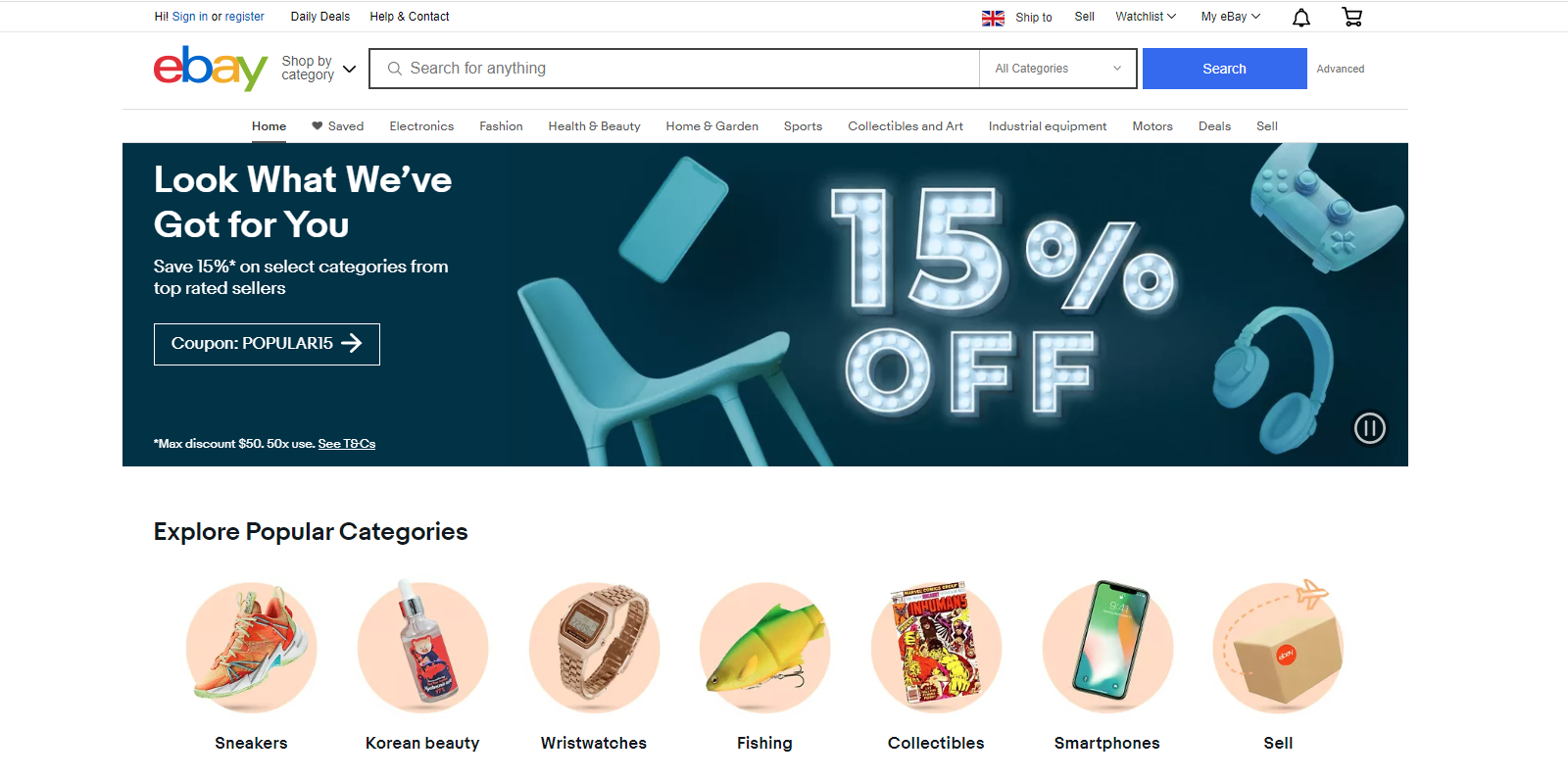 What Do You Need to Start Your Own eBay?
Several factors come into play when you're trying to develop your own competitor to eBay, and one of them is luck, which you can't do too much about. It also helps if you get your timing just right.
Other important factors to think about include:
Web Platform
There are literally hundreds of different web platforms out there for you to choose from, ranging in price and functionality from free, open-source software to expensive custom builds. The key is to find a platform that will work for you, but if you're struggling to get started, then Magento makes for a pretty good default choice.
Web Development Team
When we talk about your web development team, we're talking about the people whose role is to take your ideas and turn them into reality. You can build your own in-house team, or you can turn to an agency or a gig economy worker to get the job done.
Web Design
Development is the process of building a site, while the design is the process of figuring out the look and feel. If you want your multi-vendor site to be as popular as eBay is, you'll need to get both the web design and the web development just right, and the two teams will need to work together in harmony.
Web Hosting
The web host that you choose will have a huge impact on your site's overall performance. It affects everything from page load times to the number of visitors that your site can deal with without going down under the weight of traffic.
Niche
Working in a niche will help you dominate a market in the same way that eBay once dominated the market for Beanie Babies. It doesn't mean that you'll be stuck in that market for the rest of your career, but it does provide you with a good starting point.
Domain Name
The domain name is what people enter into their web browser when they're navigating to your website. It would be best if you came up with something that's both easy to spell and super memorable. For an online/ecommerce company, it's arguably the single most crucial part of your branding.
Cost to Develop a Multi-Vendor Marketplace Like eBay
This is probably the most complicated question in this article, and that's because there's no easy answer to it. You could spend millions of dollars developing a multi-vendor marketplace and still not be able to take eBay on, or you could bootstrap out of your "garage" and be successful.
The problem is that a lot of the software that you can use to build your site is available for free on an open-source model, and so the core software won't set you back a penny. The expenditure will come in when you buy themes and plugins. They are developed by third parties who can charge what they want, although some make them available for free.
And of course, if you can't find a pre-existing theme or plugin that meets your criteria, you're going to need to pay someone to develop it for you. This is where the actual costs come in. Especially because multi-vendor marketplaces can quickly become complicated, particularly when you allow vendors to create their own listings as eBay does. More about Cost to Develop a Multi-Vendor Marketplace Like eBay.
Conclusion
Now that you know everything you need to know about starting your own eBay competitor, you're ready to get going. You should already have plenty of inspiration and have a good idea of what it's going to take for you to get the job done, and so now it's time for you to find yourself a decent development team.
The good news is that here at Zfort Group, we specialize in building high-quality websites for people just like you, with no project too big or too small. So if you're ready to start building your eBay killer, be sure to get in touch with us. We look forward to working with you!
Do you need to build an ecommerce store, update or make a new extension? We can help!