With a market cap of over $40 billion at the time of writing, eBay is one of the world's most valuable (and most popular) websites. As of 2019, there were 180 million eBay users around the globe. eBay made a lot of money by taking a cut of all of their sales. Not bad, ha?
Because of that, it's no surprise that ⚡ so many people want to emulate eBay's success. So, if you're here looking into pricing, then the chances are that you're interested in taking them on at their own game.
Do you need to build an ecommerce store, update or make a new extension? We can help!
And so, with that in mind, we've worked closely with our developers to create this article, giving you an accurate look at how much it's likely to cost you to build an eBay killer. Let's get started.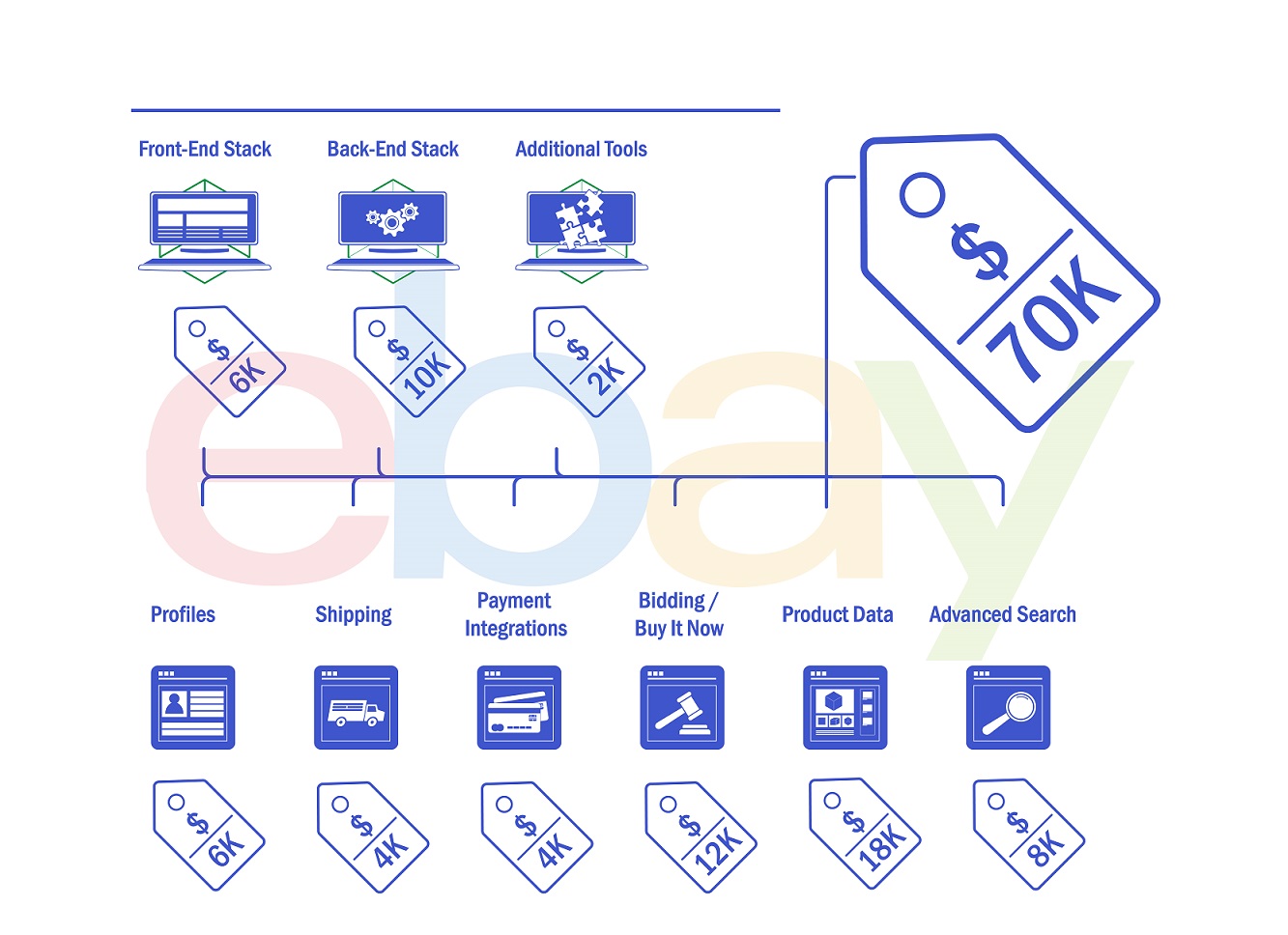 What are the main features of eBay?
We could write a whole article just looking at the features that eBay has to offer, but that's because it has over 25 years of history behind it. They've had plenty of time to develop new features and functionality, which leaves you playing catch-up if you hope to compete with them.
And so, let's limit ourselves to only the most essential features, starting with its self-service listing tools. eBay allows anyone to sign up to the site and to create listings, which means that eBay doesn't need to worry itself with creating content – its vendors do that for them.
eBay supplements this by tapping into vast numbers of disparate data sources to help to populate their listings. For example, they can use ISBN data to auto-populate book listings to help save sellers time and streamline the process. Their mobile app is also designed to make it easy to create listings simply by snapping a few photos.
Back in the day, eBay was exclusively an auction site, but things changed. Later they added "buy it now" functionality so that shoppers and sellers both have more choice and more control over what they're buying and selling.
And, of course, eBay has a powerful search feature, as well as access to saved searches, great browse features, and easy filtering to ensure that the listings that you're looking at are as relevant to you as possible. The result is one of the most successful online marketplaces in the world.
How much does a technology stack cost for a marketplace?
When we're talking about the technology stack for a marketplace like eBay, there are three main things for us to look at:
The Front-End Stack: $6K
Your budget for front-end technology will cover how your website looks and feels and how visitors' web browsers render it. As part of this, you're going to want to cover everything from a responsive, mobile-friendly web design to support for older browsers and social networking integration. Your front-end stack would also cover things like search functionality and the ability to display images of products.
The Back-End Stack: $10K
Your back-end stack will govern how your website interacts with the database that powers it. Here, we're talking about everything from custom PHP development to MySQL coding and more. Getting the back-end stack right ensures a solid foundation for building a site that can reach the top.
Additional Tools: $2K
These are the tools that will bridge the gap between your front end and your back end, as well as the widgets and plugins you'll need to add additional eBay-like functionality. Some of them will already be available from third-party developers, while others will require custom development. You're going to find yourself paying for a combination of licenses and development time.
Overall, then, you can expect to pay $18K for the technology stack for your eBay-style marketplace.
How much do core features like eBay cost?
eBay has a massive range of functionality on offer, and so developing equivalents to all of their features is likely to take a lot of time and money. Because of that, it's usually best to prioritize, identifying the features that are the most vital to your site's success and then slowly rolling them out, one by one.
Here's what you're going to want to budget for:
Profiles: $6K
eBay allows sellers to create profiles on their site to talk about what they're all about, whether they're individuals selling a few spare possessions out of their bedroom or whether they're a giant retailer. You'll want to emulate this to allow sellers to share their stories.
Product Data: $18K
To emulate eBay, you'll want to tap into the enormous amounts of product data that's available out there through databases like the ISBN registry. This requires tapping into third-party APIs to bring in data to help sellers to populate their listings, especially when they don't have descriptions or images of the products themselves.
Shipping: $4K
Shipping is a vital part of any ecommerce platform because it's what allows the products to go from A to B.
Ideally, you'll want your ecommerce platform to allow sellers to specify multiple different shipping options, including international shipping and free shipping, along with expected despatch times.
Bidding/Buy It Now: $12K
The biddings and buy it now functionalities are arguably the most crucial parts of eBay's website. These are, what allows people to go ahead and make their purchase. Offer both functionalities, and allowing people to select which of the two to use is a win-win. They can help to boost conversions and ensure that more sales take place on the platform.
Advanced Search: $8K
eBay's advanced search capabilities help people find the products that they want to buy, so it has a significant impact on conversions and user experience. In eBay's case, they allow people to search for all sorts of specifics, from keywords to manufacturers, item location, and the condition of the item. They also enable people to view completed listings and rank their search results based on various factors, including the combined cost of the item and postage/packaging.
Payment Integrations: $4K
eBay's ability to integrate various payment providers is one of the reasons why it's so popular in the first place. By allowing people to pay with everything from credit and debit cards to bank transfers and PayPal accounts. They gave users and sellers more choice and thus widened the pool of potential users. The next big eBay killer will likely accept – and perhaps even encourage – cryptocurrencies like Bitcoin, Ethereum, etc.
So, let's do the math!
We told you about all the main costs.
Our calculation provides you with a final budget cost of $52K for your core features alongside the $18K you'll need for your technology stack. That gives you a final expected project cost to build a Multi-Vendor Marketplace Like eBay of $70K.
Where to find developers?
This is the easy part because it's quick and easy for you to run a Google search and see who shows up. Perhaps the easiest thing is to pick an agency that's local to you, but you can usually get a better deal if you outsource to a specialist agency.
That's where Zfort Group comes in, offering the perfect mixture of expertise and affordability. Get in touch today to find out more about how we can help you.
Do you need to build an ecommerce store, update or make a new extension? We can help!