You've come to the right place if you've been thinking about developing an NFT marketplace. In today's article, we're going to be sharing everything you need to know before committing to the creation of an NFT marketplace. We will help you manage your expectations on how much it's likely to cost you.
We will help you with your NFT project!
But before we do all that, let's take a step back and take a look at what an NFT marketplace actually is.
What is an NFT marketplace?
NFTs are non-fungible tokens, one of the hottest trends in today's tech industry. At the moment, they're mostly known for being used in the art market, with high-profile NFTs including a piece by digital artist Beeple that sold for over $69 million at Christie's, instantly catapulting him to the rank of the third most valuable living artist.
But the core technology behind NFTs has myriad applications.
It's a bit like how blockchain started purely as the underlying technology for cryptocurrencies before people realized how it could be applied to other fields, like healthcare and real estate.
The basic idea behind NFTs is that they provide a way to prove the ownership and heritage of a digital product.
This can help cut down on copyright infringement and piracy and prove who owns digital assets like mp3s, videos, or images.
NFT marketplaces provide a way for people to buy and sell NFTs using cryptocurrencies like Bitcoin and Ethereum. Most marketplaces are set up in one of two ways.
Niche marketplaces: These NFT marketplaces are usually designed to focus on a specific niche, such as the ability to buy and sell beats for rap music or digital avatars that can be used around the web.
Universal marketplaces: These NFT marketplaces allow all kinds of NFTs to be sold on them and don't specialize in a single type of NFT.
This means that they tend to have a much more diverse selection of NFTs on sale and cater to a larger but less-defined audience.
How do NFT marketplaces work?
To understand how NFT marketplaces work, you first need to know how NFTs work.
At a basic level, they use a technology called - smart contracts to allow people to buy and sell the ownership of digital assets.
Some NFT marketplaces allow people to list their own NFTs for sale, while others only allow the buying and selling of NFTs that they themselves have listed. Each approach has its own set of advantages and disadvantages.
The first approach means that you'll have greater volume and variety when it comes to the NFTs you have on offer, but the second approach is generally safer and less likely to lead to people trying to sell NFTs that they don't have ownership of over.
Most NFT marketplaces begin by allowing people to sign up to them and create a digital wallet that they'll use to store both their NFTs and the cryptocurrencies that they use to buy and sell them.
The supported cryptocurrencies typically differ from marketplace to marketplace, with some even using their own proprietary currencies.
Once users have signed up to the site, they're able to start shopping around. Some marketplaces require you to bid on auctions, while others offer NFTs for sale at a fixed price which the seller determines.
Some offer a choice between the two, and those that offer fixed prices will often allow people to message sellers with an offer that falls beneath the listing price.
Most marketplaces make their money by taking a cut out of all transactions in much the same way that eBay works. However, that doesn't mean that you can't turn to other routes to monetization, such as offering a self-service ads platform or charging merchants a membership fee.
What are the leading NFT marketplaces?
If you want to win out over the competition, you must first understand who you're up against. And so, with that in mind, let's go ahead and take a look at a few of the leading NFT marketplaces.
Axie Marketplace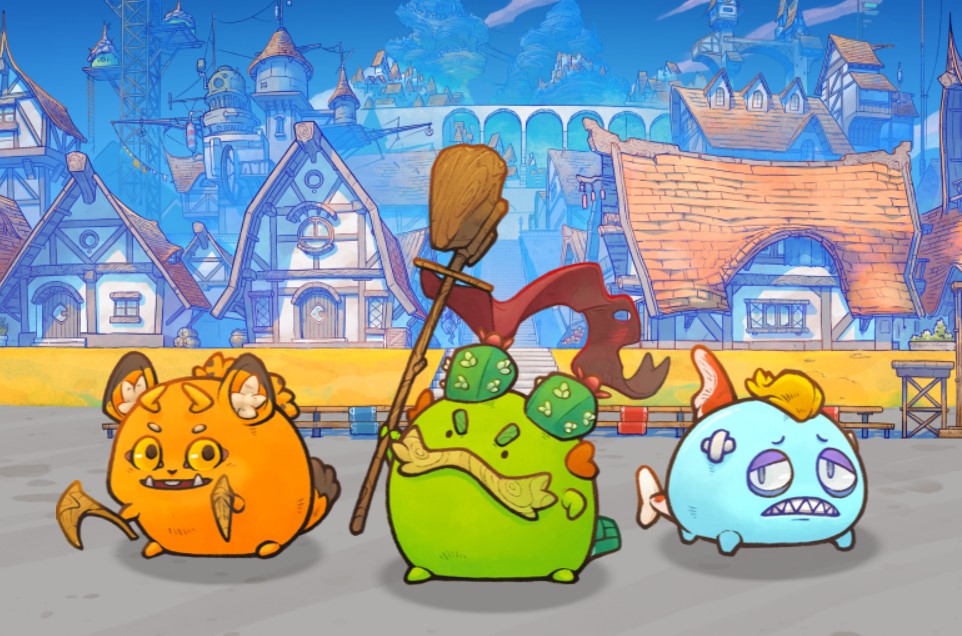 This marketplace is interesting because even though it's one of the largest NFT marketplaces in the world, it's entirely dedicated to an accompanying video game. Therefore, you can't expect to pick up a wide range of NFTs from this one as you can only buy and sell Axies, which are the digital creatures that the game deals with. We made an article where you can read about How to create an NFT Game like Axie Infinity?
BakerySwap
This is one of the smaller NFT marketplaces and stands out from the competition because it uses Binance Smart Chain instead of Ethereum, which most people see as the default. There are pros and cons to that, and it may be that its usage of BSC is the reason why it's not as big as some of the other sites on this list.
Binance NFT Marketplace
Binance is the world's largest cryptocurrency exchange, and so it makes sense that they've branched out to create an NFT marketplace.
Because they had such a sizeable asset before they even launched, they had no problem attracting users, which is why they can be such a formidable competitor to new NFT marketplaces.
Foundation
Foundation has dealt with around $80 million in digital assets and has traded NFTs, including that of Nyan Cat and those produced by both Aphex Twin and Edward Snowdon.
It works much more like a traditional auction website. Much of its popularity is down to the fact that it's so easy to use.
KnownOrigin
This is one of the smaller NFT marketplaces, with a trading volume of less than $10 million at the time of writing.
It mostly lists digital art, and while there are exceptions to that rule, it's definitely one of the more conservative NFT marketplaces, if you can call any NFT site conservative. It's also one of the easier competitors for you to take on.
Larva Labs
Like the Axie Marketplace, Larva Labs is a marketplace that's dedicated to a single, specific purpose, which in this case is to allow people to buy and sell CryptoPunks.
Consisting of 10,000 different computer-generated characters, CryptoPunks were first made available for free. However, these days, you're looking at spending hundreds of thousands of dollars if you hope to get your hands on one of them. Larva Labs is the marketplace that you'll use to do that.
MakersPlace
This marketplace has a reputation for housing the digital equivalent of fine art, with most of its collections being exclusive to the site.
Remember when we mentioned Beeple earlier on in this article? In 2021, MakersPlace collapsed under an influx of traffic when Beeple used it to release a series of NFTs that were available for just $1 each.
NBA Top Shot Marketplace
Backed by the might of the National Basketball Association, this marketplace is interesting because of the fact that it's achieved so much mainstream popularity.
It's basically the digital equivalent of trading cards, allowing people to buy cards featuring digital clips that can be stored in a wallet. They regularly drop new packs of digital cards, and users can join a waitlist to be the first in line to make a purchase.
Nifty Gateway
Nifty Gateway is owned by a crypto exchange company called Gemini, and it's known for being one of the earliest platforms to have sold NFTs worth more than a million dollars.
It also has a reputation for partnering with well-known public figures like Eminem and The Weeknd. It's pretty easy to sign up and start using it, so consider emulating that when working on your onboarding process.
OpenSea
This is the largest peer-to-peer NFT marketplace in the world, with a trading volume of over $5 billion. It's one of the go-to's that people in the space first turn to, so they're likely to be one of the big competitors for you to take on in the same way that any ecommerce site is competing against Amazon.
They cover a variety of NFT properties, ranging from artwork and music to in-game items and other digital assets.
Rarible
This marketplace is one of the leading Ethereum marketplaces and is entirely community-owned and based around the trade and collection of digital art. Recent statistics showed that it had a trading volume of $210 million, perhaps partly due to the diversity of the products on offer there. From this point of view, it's worth you taking a good look at their user interface, as it has a reputation for being one of the most accessible sites to use.
Solanart
This marketplace is built on the Solana blockchain and is a curated marketplace with a relatively small selection of NFTs to choose from.
On the plus side, this curation means that they've done a lot of the hard work for you, and if you're interested in making purchases, you're not going to need to hunt around for something worth buying.
SuperRare
SuperRare is a bit like Rarible but with a higher-end look and feel. They're more selective about the NFTs they allow to be listed on the site, and it also uses a more minimalist design that puts the artwork front and center.
Instead of just providing a near-endless feed with every NFT imaginable, it's more like visiting a gallery and purchasing a piece that's on display on the walls. Of course, both sites have their place, and it falls to you to decide which of the two you most want to emulate.
What else do you need to know?
Given that the NFT market is constantly evolving, you're going to need to learn new things as often as you can. This includes everything from what's hot and what's not on the market to the technical aspects of the technology and the different standards that are on offer.
Speaking of standards, there are two main standards that are commonly used to mint an NFT:
ERC-721: Maps unique identifiers to the addresses representing the owner. It also provides a way in which assets can be transferred to a new owner.
ERC-1155: This is used for a class of assets as opposed to just one and is known for being more efficient.
NFTs also use metadata in much the same way that web pages use metadata to tell search engines what they contain. An example of NFT metadata is the "ownerOf" field, which displays who currently owns any given NFT.
Metadata is also used to store information like names, descriptions, and associated images.
What are the features of an NFT marketplace?
We've already covered a few of the features of an NFT marketplace, and it's a safe bet to say that every single marketplace has the ability to sign up and browse and purchase NFTs. So you can think of those as the core features common to every market and allow them to function in the first place.
Common features for NFT marketplaces include:
Dashboards: Also called a storefront, this is the section of the marketplace that people first arrive on and which shows them the latest status of their assets and any product categories that they've shown an interest in.
Search: This is a no-brainer, as it will allow people to find the NFTs that they're interested in so that they can make bids and purchases. It's also a good idea to offer browsing functionality so that people can filter products by category and make serendipitous discoveries.
Listing creation: This might be less relevant if you don't plan to allow users to list their own NFTs, but if you're creating a site that allows anybody to come in and list their NFTs, you're going to want to pay close attention to whatever listing tools you offer.
Purchasing: Regardless of whether you offer bids, fixed prices or both, you'll need to have the functionality in place that allows people to complete their purchases. If you choose to support bidding, you may also want to offer watch list functionality so that people can keep an eye on auctions that they might want to bid on later.
NFT Wallets: These are used to store the cryptocurrencies that users will need to bid on NFTs. They'll also need to be able to receive cryptocurrency for any sales that they make, as well as to transfer crypto off the platform. Some NFT marketplaces also allow people to exchange cryptocurrency for regular currency like US Dollars and to deposit or withdraw from a regular bank account.
NFT minting: While every NFT marketplace doesn't offer this, some choose to offer it so that people can mint their own NFTs on the platform. However, this can offer additional complications due to the fact that people will need to prove their ownership of the digital asset.
How much does NFT marketplace development cost?
This is a difficult question to answer, as you can probably imagine if you've read this far. The challenge is that the cost of development will depend upon how much work is involved, and that will be determined by the features that you hope to include as a part of the build.
The good news is that there are ready-to-use platforms out there that come with a lot of the features you'll need, and so you'll then only need to pay for further customization. It's a little bit like how using WordPress can help to cut down on development costs by providing you with a basis to build upon.
As a general rule, though, you can expect costs to begin at around $25,000, and they can easily rise to five times that amount. That's also purely the development cost, and it doesn't factor in ongoing management and maintenance, as well as other costs such as the amount of hosting resources that will be consumed or the time it will take for your staff to monitor listings or to add new NFTs.
If you are looking to just test the waters and see how your project goes from the potential investors' point of view, it is recommended to start with a PoC - proof of concept, where we build a very simplified version of the marketplace. The PoC price is typically 25-30% from the MVP price, meaning that you can get a straightforward marketplace PoC for as little as $5,500 - $7,500.
You're likely to find that development costs are the largest expenditure that you'll have to deal with, and you'll also have to pay out upfront as the majority of that budget will go towards creating the site in the first place. This is both good news and bad news.
It's good because it means that you won't have to keep shelling out hundreds of thousands of dollars as the years go by, but it's bad because it means that you'll need to get your hands on a decent amount of startup capital.
What's next?
Now that you know the basic steps you'll need to follow to start developing an NFT marketplace, you're in a good place to take your plans forward. You'll want to work on a business plan and make some financial estimates, and if you plan to try to secure funding, then you can make a start on that.
You'll be ready to start looking into NFT developers and getting quotes for the work with that done. Bear in mind here that you have two main options:
You can either hire a full-time NFT Developer to work for you, or
You can find a freelancer or an agency that can charge you hourly.
It should go without saying that each approach has advantages and disadvantages. When you hire someone to work for you, you need to commit to paying them a salary whether or not you have any work for them. On the other hand, you'll actually save money if you keep them busy enough because employee costs are generally lower than those of an agency.
If you go with a freelancer or work with an agency, you're likely to pay more per hour than you would if you had an employee. However, you can cap your spending at a value that works for you, and you also get the benefit of tapping into multiple different people's experiences instead of only having one brain on your side.
You may also want to seek legal representation and find an intellectual property lawyer so that if there's ever a dispute, you know exactly who to go to. Your legal team can also help you to make sure that you've filed all of the relevant paperwork and that you've thought about things like privacy policies and the way that you store and use data.
Getting help
Ultimately, the decision about whether to hire a full-time NFT marketplace developer or to work with an NFT agency is one that only you can make. The hope is that now you've read this article, you have a decent understanding of why you need an NFT developer and what options are available to you.
Still, need help with NFT development? We'd be more than happy to help. Here at Zfort Group, we have plenty of experience working on NFT development, and we'd love to help you to bring your dreams to reality. So reach out to us today to find out more!
We will help you with your NFT project!