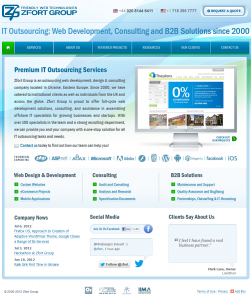 Zfort Group is happy to announce the release of its updated corporate website! Our skillful professionals worked hard on the update to show you all the possibilities our company is able to provide. As a result, the ready website contains several new sections with loads of interesting information and useful details:
Services:
Services section shows details on the three main directions Zfort Group works – web design and development, consulting, B2B. You'll find there everything concerning these services from general information on website development stages to details on outstaffing and IT recruiting opportunities.
About Us:
Hopefully, you will appreciate this section, as we tried hard to tell you as much as possible about our location, social life, security measures, careers and just the way we live and work. Undoubtedly you'll like us, even more, when visiting this section! :)
Featured Projects:
At this page, we showcased some samples of projects that are selected by used technology and type of project. Just take a look at samples of our work.
Social Resources:
At this page, you'll find links to our blog, previous newsletters, frequently asked questions, special Glossary section and social networking profiles.
Our Clients:
On pages of Our Clients section there is some special information about the vast number of our clients and industries they operate in alongside with their testimonials.
Even Contact Us page contains something special! We could not resist spicing up this page with a bit of development magic – the area code is defined automatically depending on the user IP address – you no longer need to input your country code, our magic page will do this for you. So contact us with any questions you have!
We think the result, our updated website, deserves respect! And what do you think? Your comments are highly appreciated. :)