The digital landscape that we work in offers unprecedented opportunities to those who are prepared to seize them, but it can also be confusing and difficult to navigate.
Get a skilled development team collaborating with your company or in-house team as one unit.
Digital is the new norm, but those companies looking forward to truly take advantage of technology innovation, need to use bespoke systems which are specifically designed to help them get the job done. It doesn't matter whether we're talking about managing the supply chain or bringing data together from disparate sources to create a more powerful overall dashboard.
Bespoke software will always be more powerful than generic software, but it's not just as simple as keying in a Google search and picking out any first-page result. There is a whole range of factors for you to consider before you go ahead and make a decision or sign an agreement.
What to look for in a software development company?
When it comes to choosing a software development company it's a lot like buying a house: it's all about location, location, location. Put simply, there are two main options: you can either work with a company in your local geographic area or you can outsource it to a company that offers more competitive rates.
Eastern European software development companies are a smart choice when you want quality and affordability at the same time because while the availability of talent is the same, the cost of living is lower. This means that both the companies and their employees have lower overheads, which means that they can often undercut local companies and provide you with reasonable quotations.
As for where you can find these companies, it really depends. Some people prefer to hire on freelancing sites or software development forums, while others put the job out to tender. Either way, if you're looking for a reasonably-priced European software development company, this list is a decent place to start.
The Criteria
We've pulled together this list of the 10 best European software development companies based on a range of factors including the range of services that they have to offer, the feedback they have from clients, the quality of the work they have in their portfolios and the price they charge for the work they do. Let's get started!
1. Zfort Group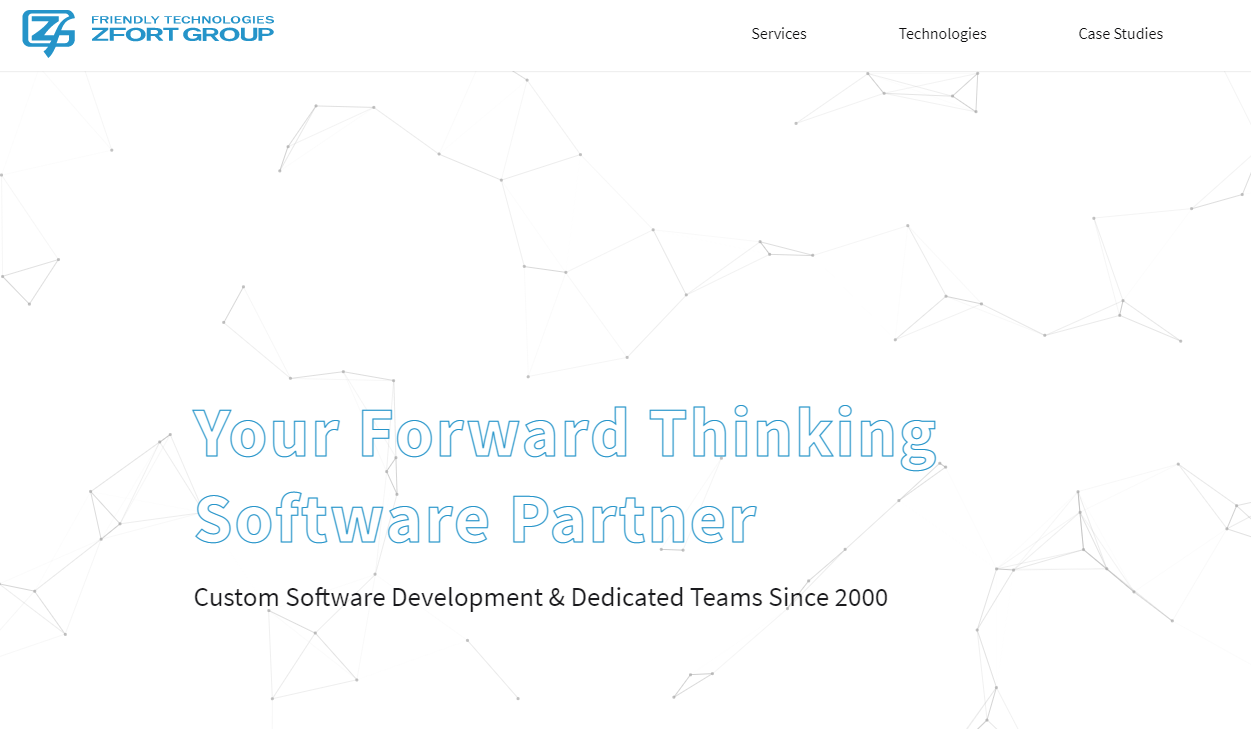 Size: 200-500
Year Founded: 2000
Industries: Blockchain, Big Data, Machine Learning, IoT, AI, Web, Mobile
You can't have a list like this without Zfort Group. A full-scale IT outsourcing provider that's been offering premium web development, consulting and B2B, dedicated development team solutions since 2000. The company has a heritage to match many of their competitors but uses a much more flexible model to offer software development services to clients of all sizes and across all industries. Recently, the company has beenrecognized as a top WordPress Company on DesignRush.
With 70% of Senior-level developers on board, the company has delivered over 600 custom projects including the most innovative solutions using Blockchain, Big Data and other revolutionary technologies. The company has served to some of the Fortune 500 companies including Ford, P&G, Weimark, Nasa and Henkel.
Zfort Group's mission is to get to know exactly how their clients work and which processes they follow to create a bespoke software offering that can slot right into their business and its current workflows.
2. N-iX
Size: 501-1,000
Year Founded: 2002
Industries: Mobile and Web development, Game Development
N-iX is another Eastern European software development company which specializes in using an outsourcing model to service SMEs and enterprises from around the globe. Based in Poland and Ukraine they have 800 software engineers and have been growing steadily since they were formed back in 2002. They've made it into our top three because they offer a decent range of subjects at a reasonable rate, but there are still eight more companies to take a look at. We feel sure N-iX will be around for a while to come.
3. Intellectsoft
Size: 201-500
Year Founded: 2007
Industries: Blockchain, AI, AR, IoT, Cloud Computing, Big Data
Intellectsoft calls itself a "full-service software and mobile app development company", and it's their mobile applications that they're known for. They've now worked with dozens of Fortune 500 clients and mostly still specialize in mobile apps that they made their name with, although they've also expanded to offer other services. What's particularly good about them is that in comparison to some of the larger competitors, they're able to react more quickly and operate much more like a startup than a large corporation.
4. Intersog
Size: 51-200
Year Founded: 2005
Industries: Mobile, IoT, Big Data, eHealth
Intersog is based in Chicago but has Eastern European offices including Intersog Ukraine in Odessa. They specialize in developing iOS, Android and cross-platform apps and mainly work with Fortune 500 and other large companies.
5. Sigma Software
Size: 501-1,000
Year Founded: 2002
Industries: AR, VR, Automotive, Finance, Big Data, AI
Get a skilled development team collaborating with your company or in-house team as one unit.
Sigma functions as a specialist outsourcing company that provides offshore software development, web and app development and general engineering services. This breadth in terms of the number of services that they have to offer makes them a decent choice in quite a variety of different circumstances. They have a reasonably impressive roster of clients and basically build bespoke teams around your projects. Their customer reviews are pretty good, too.
6. SoftServe
Size: 1,001-5,000
Year Founded: 1993
Industries: Big Data, IoT, Financial, Healthcare, Machine Learning, IoT
SoftServe was founded and is still headquartered in Ukraine, and they have 25 years of experience creating bespoke software for all sorts of commercial purposes. It's also one of the largest software developers in Europe with several thousand employees and the ability to work on everything from Big Data processing and the Internet of Things to user experience.
7. Nix Solutions
Size: 1,001-5,000
Year Founded: 1994
Industries: Mobile and Web development, QA, Graphic design, IoT
Nix Solutions is another Ukraine-based software development company, and they're one of the country's largest IT companies. They service clients from around the world and provide web, mobile and desktop development services to larger companies.
8. ScienceSoft
Size: 501-1,000
Year Founded: 1989
Industries: CRM, Data Analysis, Mobile development, Intranet
ScienceSoft is another US-based company with Eastern European locations and headquarters in McKinney, Texas. They've partnered with IBM, Microsoft and Oracle to service customers like eBay and PerkinElmer. They've also been going for nearly thirty years, which is a long time in the software development business.
9. Oxagile
Size: 201-500
Year Founded: 2005
Industries: Machine Learning, Big Data, AdTech, EdTech, Big Data
Oxagile is a more versatile software development company than most of the others on this list, but that's because they offer solutions across all areas of business, from procurement to accountancy and sales and marketing.
10. MentorMate
Size: 201-500
Year Founded: 2001
Industries: UI/UX, Digital Health, Mobile Development
MentorMate has seven offices across the globe including in the US, Sweden and Bulgaria. Unlike some of the other companies on this list which only work with large internationals, MentorMate is happy to work with smaller teams and goes out of the way to make sure that their applications work on a wide range of devices. They're able to work with smaller budgets than other providers and also localize their communications for when you need them in another language.
Conclusion
Now it's time to reveal the truth. There's no perfect company existing today. And the list above is just a selection of some of the most reliable companies. But to be on a safe side and pick the best software development partner for you, there's only one reliable way: do your own research. On top of that, it's best to work out your own criteria based on which you'll be able to shortlist the best company for you.
To be on a safe side and save your time, you can trust Zfort Group as a reliable IT partner. We will go out of our way to get to know your business goals and provide a quick-to-market software.
Just drop us a line and we'll get back to you within 24 hours inspired for a new challenge!
Get a skilled development team collaborating with your company or in-house team as one unit.