What's popular in Ukraine in 2013 in terms of programming languages? What do IT experts prefer to use in order to deliver the best solutions for their customers from the USA, UK and the rest of the world? Below is a series of polls presented to your attention, especially held to find out which programming languages are actively used for different purposes by various developers in 2013 in Ukraine and partially abroad – just co compare what's popular here and there. The polls were made as of January 2013 and posted on famous Ukrainian portal for developers – DOU.
Below is the translation of the survey.
3345 people took part in this study, 43% of them participated in previous surveys. 91% of respondents live in Ukraine, 9% - outside of it. Generally the most popular languages are Java, C# and PHP. JavaScript is utilized as an essential language more often than Ruby and PL/SQL is among the top 3 supplementary languages. The primary data of this study, together with the processing scripts of R language can be found at https://github.com/rssh/dou_pl_questionare. Previous studies results (in Russian).
Primary Development Language
Allocation of the leader hasn't changed (Java, C#, PHP, C++, Python), in the second group the use of PL/SQL and 1C («1С: Accountancy» — one of the top popular solutions for automation of bookkeeping throughout CIS) has increased and the use of Ruby has decreased. The most significant alterations, as expected, are in the long tale of the diagram – instead of Ocaml, Lua and Apex there are T-SQL, Coffee Script and Lisp that are more distinguishing.
Now, let's take a look at the dynamics of the last 3 polls.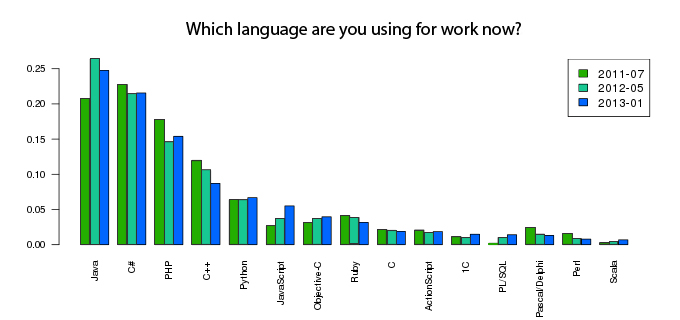 Here we can see that the use of JavaScript, PL/SQL and Scala has been growing, and the use of C++ and Ruby has been going down.
These changes are statistically significant, compared to the previous poll, when it comes to popularity of C++ and JS. And compared to the poll before the last one – the alterations of Java, PL/SQL, Pascal and Perl popularity are added.
(Reminder – the alterations statistically matter in case the results of the given poll and the previous one are not different groups in the same Gaussian population with usual confidence interval of 0,95%).
Preferences of the Future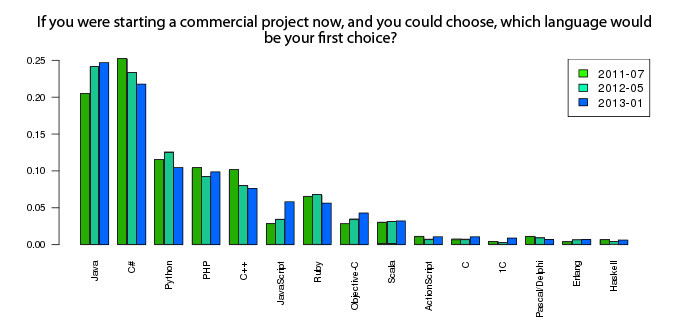 The tendencies are similar to the question on the current utilized language, but less distinguishing. The only differences here are that Scala positions grew, Kaskell got into the number of "popular among marginal ones".
Now let's build the index of language satisfaction – the percentage of people who work with the given language and would choose it in their next project. Rather delighted with their language are the users of С#, Python and Scala (0,87, 0.86, 0.85 accordingly), then come Objective-C, Java and Ruby (0.80, 0.79, 0.79), and then С++, PHP and Perl (0.69, 0.61, 0.61).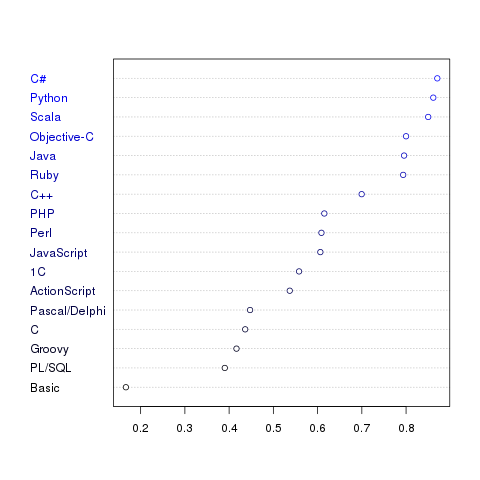 However, the index of language satisfaction doesn't relate to its extension. JS and PHP combine high extension and low level of satisfaction. Basic migration directions from JS are Java, PHP, Python and Ruby; from PHP - Python, Ruby, Java and JS. For those who code in 1C the most popular alternatives are Java and C#.
Supplementary Languages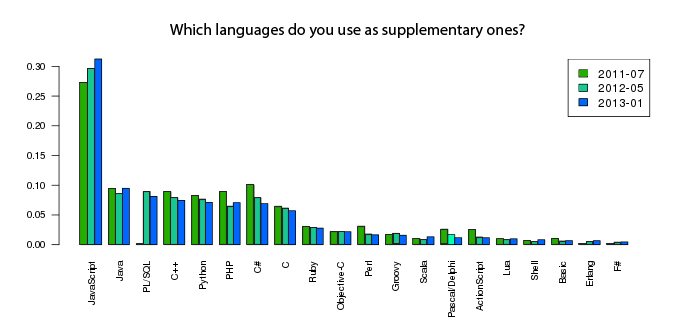 The first 20 is presented in the histogram above. JS is still without a rival, and the use of it as a supplementary language is increasing. Top 3, in contrast to the results of the "Basic language use" poll, includes PL/SQL.
Let's see which languages are utilized together with PL/SQL as essential ones: Java (31 %), C# (28%), PHP (13%) and even 1C. That is a simple distribution of Oracle database which is so big that it is worked with from any platform.
Pet Projects
Pet projects are projects that developers create for themselves which suggests an unlimited freedom of choice in terms of a language.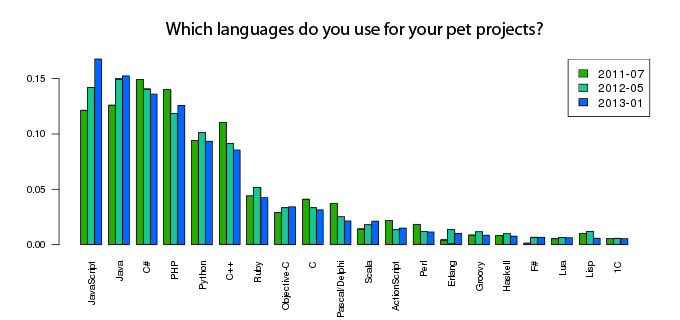 JS overtook Java and came out on top otherwise the tendencies remained the same as in the use at work.
Rating: Final Results Table
| | | | | | | | | | |
| --- | --- | --- | --- | --- | --- | --- | --- | --- | --- |
| № | Language | Market Share Now | Change compared to the previous poll | Working now | For the market in perspective | Would start the project now | As a working supplementary one | In hobby project | Attachment Index |
| 1 | Java | 24.50 | -1.6 | 719 | 24.25 | 828 | 508 | 731 | 0.795 |
| 2 | C# | 21.34 | | 626 | 21.38 | 730 | 371 | 652 | 0.87 |
| 3 | PHP | 15.23 | 0.7 | 447 | 9.70 | 331 | 379 | 603 | 0.615 |
| 4 | C++ | 8.62 | -1.8 | 253 | 7.50 | 256 | 399 | 410 | 0.70 |
| 5 | Python | 6.65 | | 351 | 10.28 | 351 | 381 | 448 | 0.86 |
| 6 | JavaScript | 5.45 | 1,75 | 160 | 5,71 | 195 | 1673 | 804 | 0.60 |
| 7 | Objective-C | 3.92 | | 115 | 4.21 | 144 | 117 | 164 | 0.8 |
| 8 | Ruby | 3.13 | -0.69 | 92 | 5.53 | 189 | 149 | 204 | 0.79 |
| 9 | C | 1.87 | | 55 | 1,04 | 36 | 306 | 151 | 0.43 |
| 10 | ActionScript | 1.8 | | 54 | 1.05 | 36 | 63 | 72 | 0.53 |
| 11 | 1C | 1.4 | | 43 | | 30 | 23 | 26 | 0.55 |
| 12 | PL-SQL | 1.3 | | 41 | | 21 | 435 | 78 | 0.39 |
| 13 | Pascal/Deplhi | 1.29 | | 38 | | 24 | 63 | 103 | 0.44 |
| 14 | Perl | | | 23 | | 17 | 89 | 55 | 0.60 |
| 15 | Scala | | | 20 | | 108 | 71 | 102 | 0.85 |
| 16 | Groovy | | | 12 | | 18 | 85 | 41 | 0.41 |
| 17 | Basic | | | 12 | | 4 | 36 | 15 | 0.16 |
| 18 | T-SQL | | | 6 | | 3 | 12 | 2 | 0.50 |
| 19 | Erlang | | | 6 | | 24 | 36 | 49 | 0.33 |
| 20 | CoffeeScript | | | 5 | | 1 | 10 | 7 | |
| 21 | Lisp | | | 3 | | 6 | 16 | 28 | |
Development Experience and Language Selection
The study shows that development experience depends on a language only partly: allocation by languages is more or less smooth. However, there are two exceptions – C and C++ developers are on average more experienced. Interestingly, public opinion about poor experience of PHP and JS developers isn't confirmed.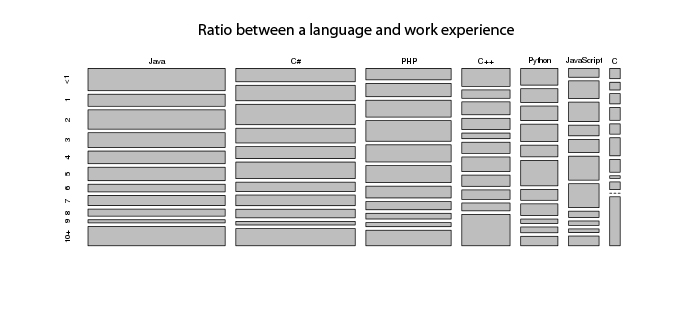 Developers still change a language once in a few years.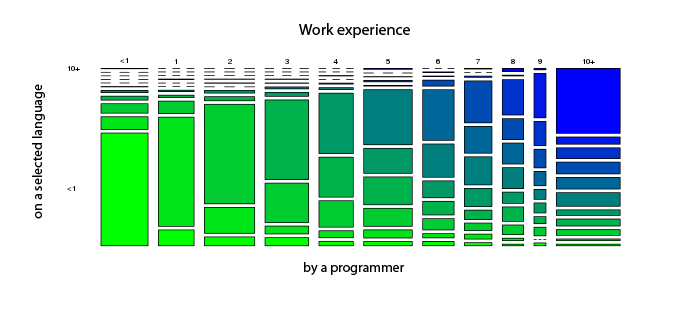 First Language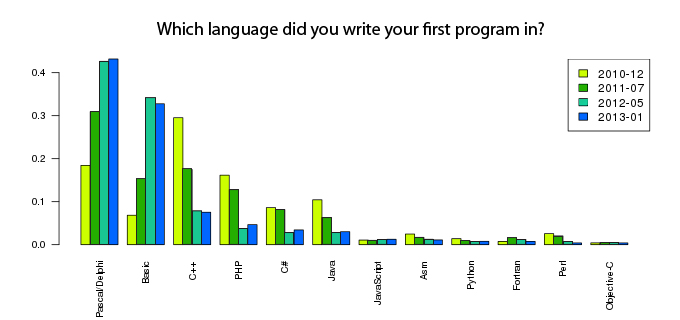 In the given histogram the results of all the 4 polls are presented. As we see, the data compared to the last year has changed a little: the first programs were written mostly in Pascal and Basic. The amount of people, who learned how to program in something real, decreases with time.
Demography
72% of respondents were in the age of 20 to 30 years old. There was only 2% of participants older than 40 and 0,5% - older than 50.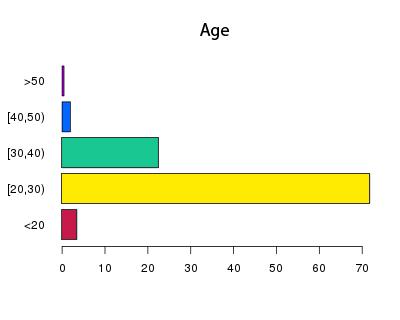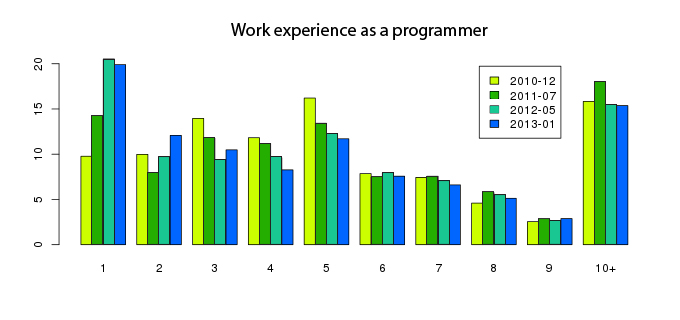 Ukraine/World
The difference in language allocation in Ukraine and in the community is remaining (even though slightly flattened), which can be seen in the diagram below: there is no such a gap between the first three languages and the rest, and Python is utilized more often than PHP.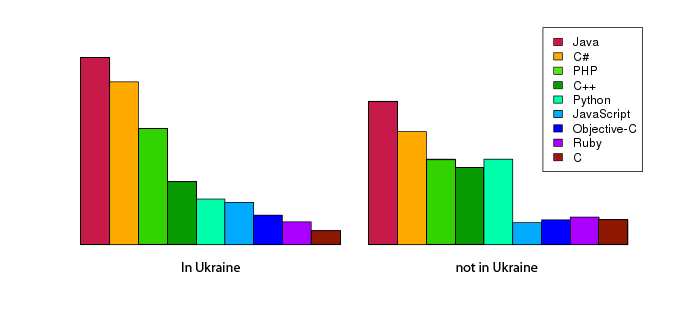 Curious enough is the allocation of work experience between the poll participants from Ukraine and the respondents from abroad – naturally there are more people with experience and less newbies. Yet the 5-year peak is still the same.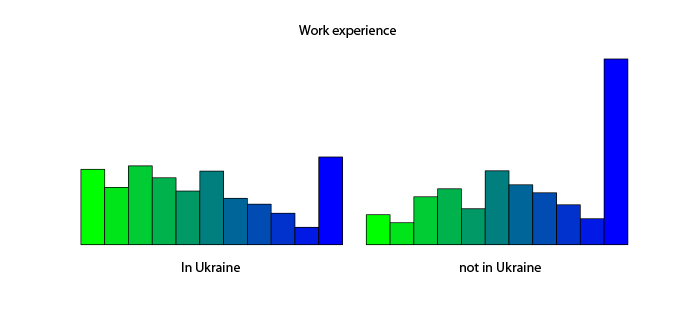 Ukraine is known as one of the most perspective destinations for IT outsourcing (and PHP development services in particular) in Eastern Europe that has been rapidly developing and becoming a friendly environment for business growth for the past decade. Multiple corporations and smaller firms have been outsourcing and both nearshoring and offshoring their IT to Ukrainian providers and in most cases gaining high quality and saving a lot of their costs lately. We intend to hold a few surveys to see to the tendency of Ukraine as an IT outsourcing provider that has not only reached a certain level of success, but is also developing further and is only getting better for more businesses to bring and profit. Make sure you follow us to get that info first hand!