Just imagine that you have a project idea that requires software development skills. What will be the next step for you?
You are probably wondering whether to hire a freelancer or seek assistance from a software development company. The decision you make now will influence the whole software development process and impact the future success of your project.
How to make the right choice? You will find the answer to the question below. We intend to provide you with in-depth insight into the pros and cons of hiring a freelance software developer vs. software company.
Pros and Cons of Hiring a Freelancer


A freelancer is a person who has specific skills, in our case – software development skills. This person is often self-employed and provides services to many companies. Hiring a freelancer has its benefits and drawbacks. All of them will be reviewed in more detail in the chapters to follow. Continue reading to learn why you should consider hiring an individual software developer and what can influence your final decision.
Pros of Hiring a Freelancer
It makes sense to start our review with the main pros of hiring a freelance software developer. The list of benefits includes cost-efficiency, flexibility, speed, and much more. Let's inspect each of them with more precision.
It is probably the main reason why a business hires a web developer on a freelance basis. On average, you might be able to save 20-30% on the cost of software development. The reduce in price is possible due to the independence of contractors. Freelancers usually do not have offices they need to pay for and other benefits to give for their employees. It enables them to offer lower rates for the provided services – starting from $41-60 per hour.
When dealing with freelance software developers, you do not need to worry about the binding terms of an agreement you sign. These contractors usually work at their schedule, and their working time is not limited to 8 hours a day. Such flexibility can result in faster project delivery and more effortless adaptability to the ever-changing requirement from your side.
In the USA alone, there are more than 57.3 million freelancers who provide different services. The talent pool is enormous so that you can easily find a person with unique skills and experience, which will perfectly align with the needs of your project. Such platforms as Upwork, Freelancer, Guru, and Fiverr will help you find independent contractors.
As freelancers work for themselves, they are motivated to deliver the results in as short a time as possible. It is in their best interest to meet your expectations, show that they are reliable contractors and maybe get you as a standing client.
Pros of Hiring a Freelancer
As with every choice you make, there are some weaknesses associated with hiring a freelancer. A company choosing an individual software developer should be prepared for the possible problems and know how to tackle them.
Yes, you have read it right. As freelancers work for themselves, they usually fiddle with a few projects at the same time. For some of them, it is a common practice to take on more projects than they can manage or disappear without finishing a project. Freelance software developers can bring great results, but a Plan B is a must for those who plan on working with them.
The desire of freelancers to take on as many projects as they can and to deliver results in record time may lead to unpredictable results. Contractors often fail to provide high-quality services as they are more worried about finishing a project. What is more, you can encounter problems in the future if you plan to scale it further. What is more, with freelancers, you often have to hire a new contractor to fix bugs as they usually do not provide ongoing support and maintenance.
When you hire a software company, you can be sure that everything will go according to the established timeframe. Freelancers not always can organize the working process and meet deadlines, which results in significant shifts in the delivery of a final version of your project.
With GDPR and other policies in place, the survival of your company on the market depends on the secrecy. When you hire a freelancer, you can sign a non-disclosure agreement, but you still do not influence how the contractor deals with confidential information and users' private data. It may cause problems in the future and even multi-million penalties for the breach of confidentiality.
As you can see, hiring a freelancer goes along with high risks. Now that you know what to expect let's explore the strengths and weaknesses of hiring software companies.
Pros and Cons of Hiring a Software Development Company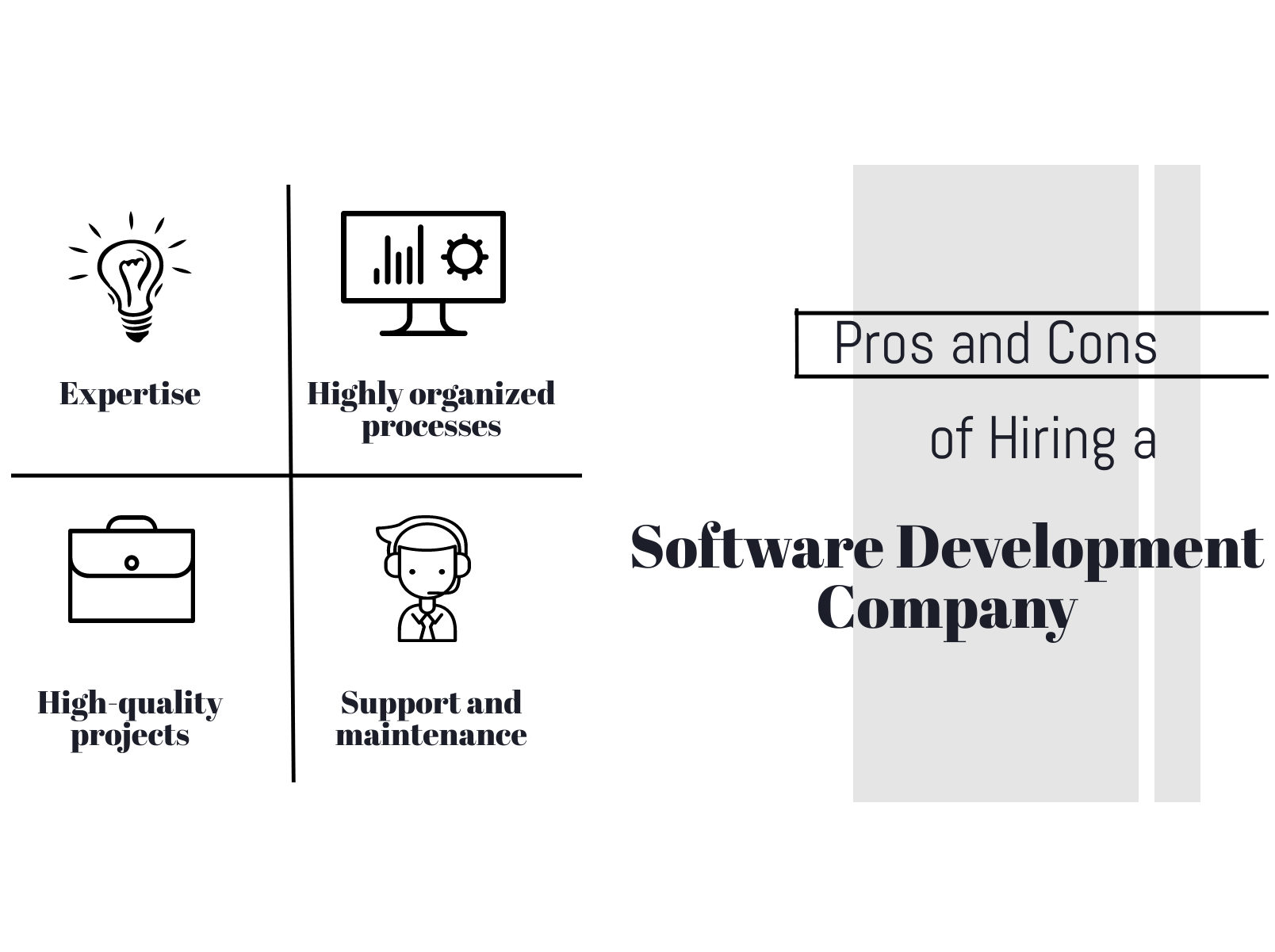 A custom software development company has dedicated teams of highly-qualified professionals in different areas. They usually provide all-in-one services – from business analysis to design and QA, which is the main strength of software engineering companies. You can find top software development companies on such platforms as Clutch.co and GoodFirms.
Pros of Hiring a Software Development Company
When you consider a new project that requires coding skills and the participation of experienced professionals, outsource companies may be the right choice. Their benefits, which are presented below, will win you over:
A software outsourcing company may build its team for years, which allows it to perform different tasks with the help of in-house teams. From a bigger perspective, it means that you will not have problems with finding the right talents if you ever want to implement some unique feature in a project. Unlike freelance developers, outsourcing software development companies deal with different types of projects of all sizes and complexity.
Highly organized processes
When you hire a software design company, you do not have to worry about constantly monitoring their work. Usually, top software development companies have well-organized development processes. They care about their reputations and customer review so that you can expect a high level of provided services.
Modern stack of technologies
The competitiveness between outsourcing software development companies is immense. That is why they always stay up-to-date with new trends and offer customers the best stack of technologies. Top software engineering companies are likely to have unique talents, such as blockchain developers, specialists in IoT, or experts in machine learning.
Ongoing support and maintenance
When you choose a mobile software development company, you can be assured that it will not disappear as soon as your mobile app is finished. As such companies often have teams that provide ongoing maintenance, they will be able to dedicate the time needed for support of your project. When we talk about individual contractors, they might not have enough time and all the instruments required for such tasks.
Remember the last time you saw a spectacular website built by a single developer. The truth is the software development process is simple and requires a lot of skills. If you want your website to be much more than just a slightly tweaked template, hiring a freelancer may not be the best choice for you.
Precise development estimation
As most vendors charge by hourly, it is crucial to know how much time a software outsourcing company would need for the implementation of particular functionality. When you hire the best software development company, you do not have to worry about unpredictable expenses. They usually have a project estimation process in place and know how much time is needed for a particular feature to be developed.
Hiring a software development company is an excellent idea for startups and big corporations that require unique skills: distinct time limits, and a reliable contractor who will not disappear without finishing a project.
Cons of Hiring a Software Development Company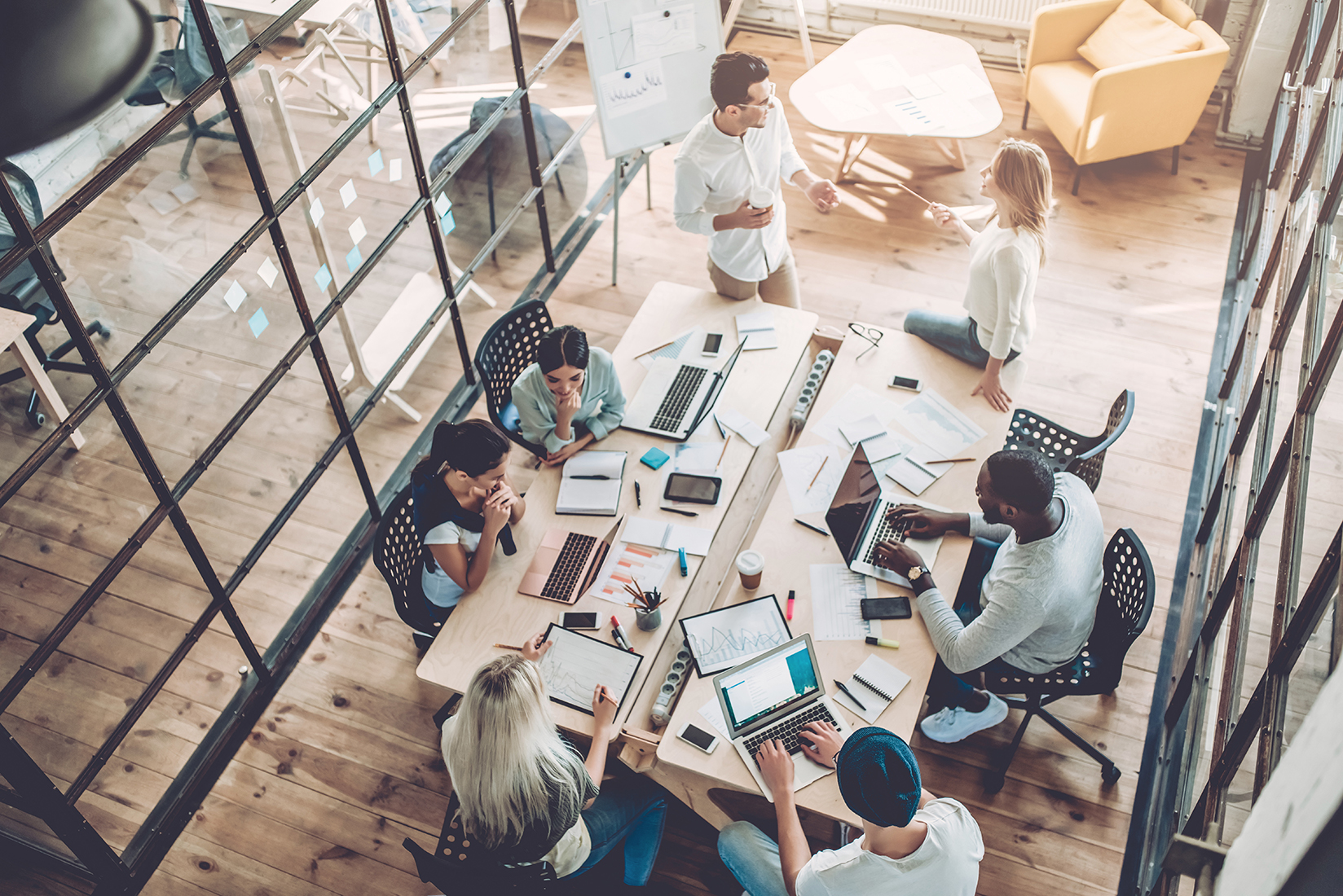 Hiring a software outsourcing company is associated with some challenges which for some might become a stumbling point. Take a look at the main cost of hiring a software company as compare to hiring a freelancer.
It is often the main reason why companies consider hiring a freelancer rather than a software outsourcing company. However, the prices of software engineering companies often depend on the region where they operate.
When making a choice, you need to remember that you will get what you pay for. You should not accept the cheapest offer as lower rates cause higher risks. Look for the best cost and quality ratio, and in the end, you will get the project you wanted. This problem can be mitigated by hiring an offshore software development company.
Custom software development companies do not provide speedy development services. Internal processes and communications may strangle the whole process. While such a company can deliver better results, it can take up longer to finish the development.
Directories for IT services enlist thousands of companies which provide the same services. Making the right choice can be tough, especially if you are not an expert in software development yourself. The only way to circumvent the challenge is to view the customer testimonials and look at the projects the company you consider has already finished. If a software outsourcing company has something similar to your idea under its belt, this is a good indicator that the development process is likely to go smoothly.
Unlike freelancers, outsourcing software development companies have strict working hours. If you need to fix a bug in the middle of the night, you probably will have to wait till the morning. In case of time differences, you may have to wait for a few hours for the issue to be solved or to pay additionally excess hours. It may leave you with an online store or web service, not working during critical business hours.
Working with software companies, you need to be prepared for the difficulties that may arise. Remember, when you choose an outsourcing company, you pay more but get a guarantee that your project will see the light of this world in the timeframes you determine.
Comparison of Freelancers vs. Software Development Companies
Here is a quick comparison of freelancers against software development companies.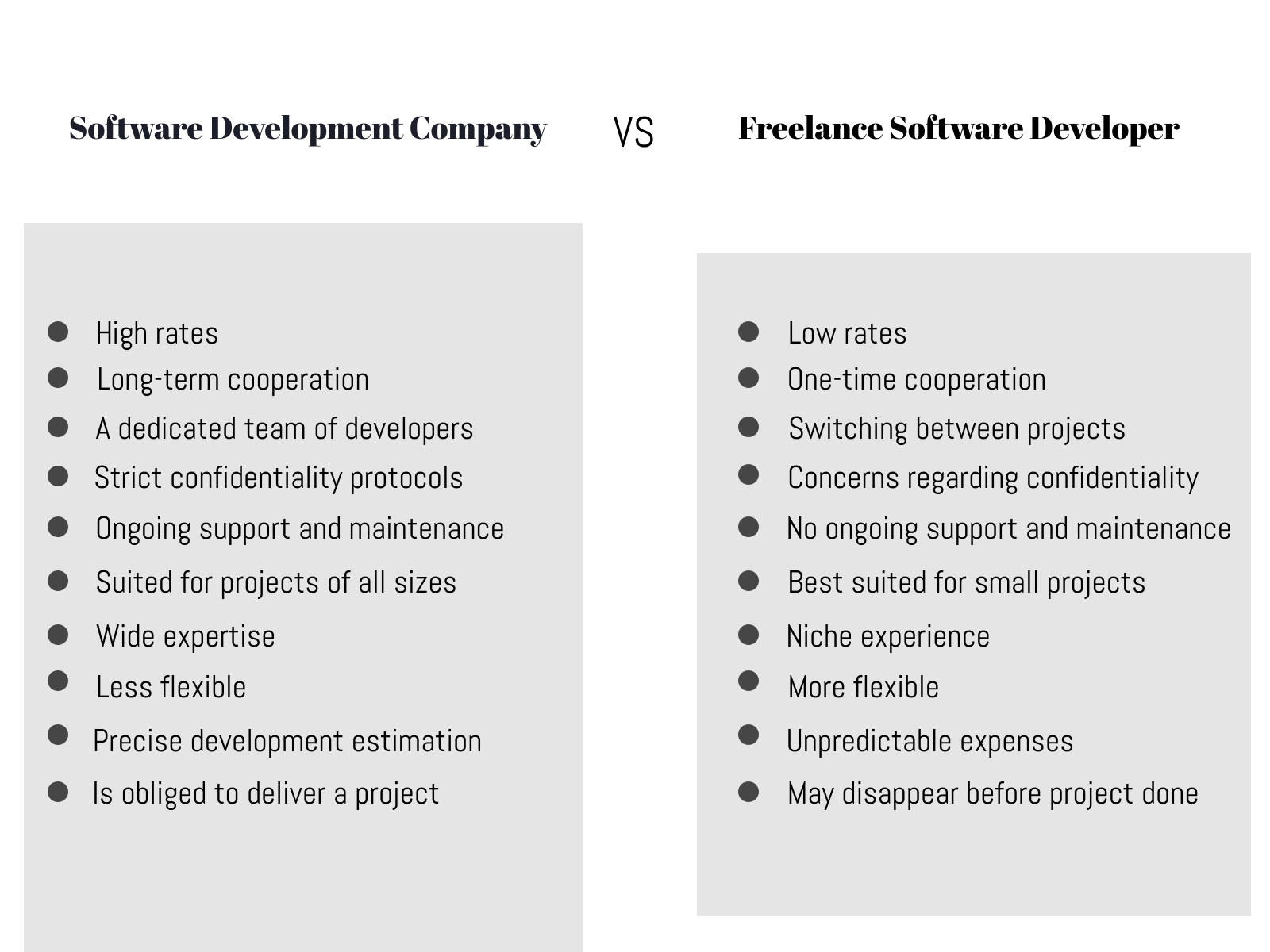 What to Choose?
There is no strict answer to the question regarding hiring a freelancer vs. hiring a software development company. The best choice is dependable as many factors influence the development processes. While freelancers may be more flexible and offer lower rates, they lag behind outsourcing software development companies in regards to the expertise, modern stack of technologies, and time of development.