Chatbots are becoming increasingly popular at the moment, in part because the technology is so good now that they're often indistinguishable from human agents, especially for simpler interactions like queries about order status and delivery time.
Let's take a closer look at chatbot development.
We Provide AI-Powered Solutions from Concept to Launch.
Why does your business need chatbots?
Chatbots are great because they don't get tired and can be active around the clock, something that's difficult even for larger companies. They're a sort of "set it and forget it" approach that can allow you to offer a much greater level of customer service and on a network that your customers are already using.
The other main advantage of chatbots is that they're almost infinitely customisable, and you can put them to all sorts of different uses. Customer service is the obvious one, but they can also be useful for information sharing of any type. Some brands are even able to build bots that are purely based on providing entertainment.
Since you're probably already well aware of the potential for chatbots to revolutionise your business, let's jump on in and take a look at just a few of the top development companies on the market.
Types of Chatbot
Now that you know why you might want to use a chatbot for your business, the next step is to understand the different types of chatbot that are out there. Let's take a look.
AI Chatbots
AI chatbots tap into the awesome power of artificial intelligence and machine learning to create powerful bots that are almost indistinguishable from human agents. The good thing about using these technologies is that the bots can get better over time as they're exposed to more and more inputs and outputs. These tend to be the most powerful and customisable types of chatbot.
Rule-Based Chatbots
Rule-based chatbots are much more like the traditional types of chatbot where the responses that they give are based upon a pre-set list of rules. They typically work on an "if this then that" type of logic and thus can easily be bamboozled if users don't provide their inputs in a very specific format. Rule-based chatbots still have their place, but they generally work better internally with staff who've been trained to use them as opposed to deploying them to the general public.
Hybrid Chatbots
As the name suggests, hybrid chatbots sit somewhere in the middle, using a combination of pre-written rules and insights from artificial intelligence to select the most appropriate response in any given situation. This can cut down on build time and make bots more efficient, especially when they're typically used for fairly repetitive tasks and queries.
Top 10 ChatBot development companies in 2021
Zfort Group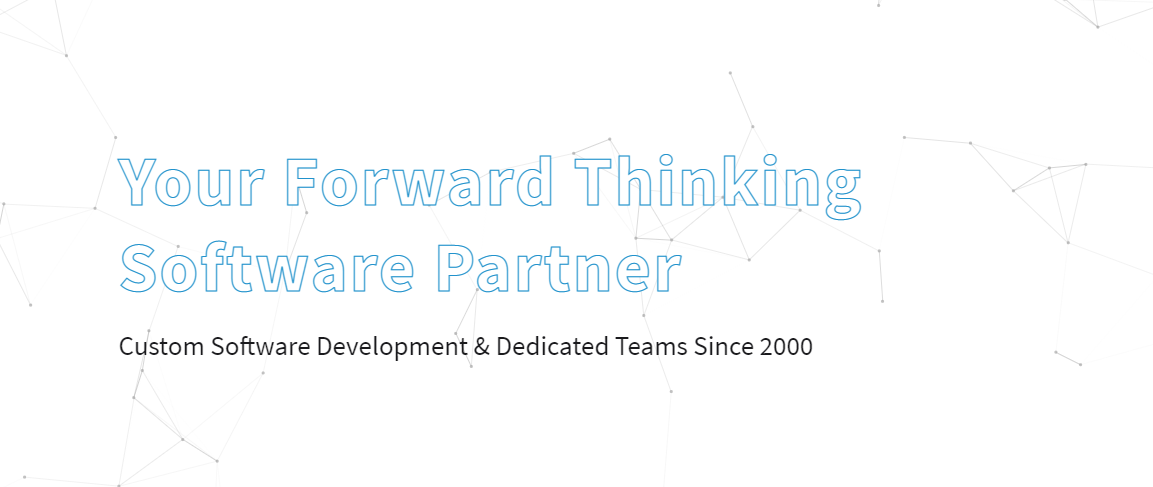 Zfort Group is a specialist provider of innovative software that's custom built to solve business problems, rather than just to satisfy a brief. They've developed their own custom methodology that's tailored to eighteen major industries, meaning that the chances are that they have specific experience in whatever industry you happen to work in.
As strategists instead of mere service providers, they're able to go above and beyond what most engineering teams can do, bolting on to your company as an extension of your own team. This is particularly important for chatbots, because there are usually additional use cases above and beyond what the client has thought of.
Founded in 2000, Zfort Group is able to bring over 20 years of experience to the table and has completed over 1,500 projects on time and on budget. They have experience working with both startups and established companies and have a track record of proven success when it comes to creating world-beating chatbots that pick up both engagement and conversions. There aren't many companies that can compete when it comes to both technical capabilities and affordability.
Affle Enterprise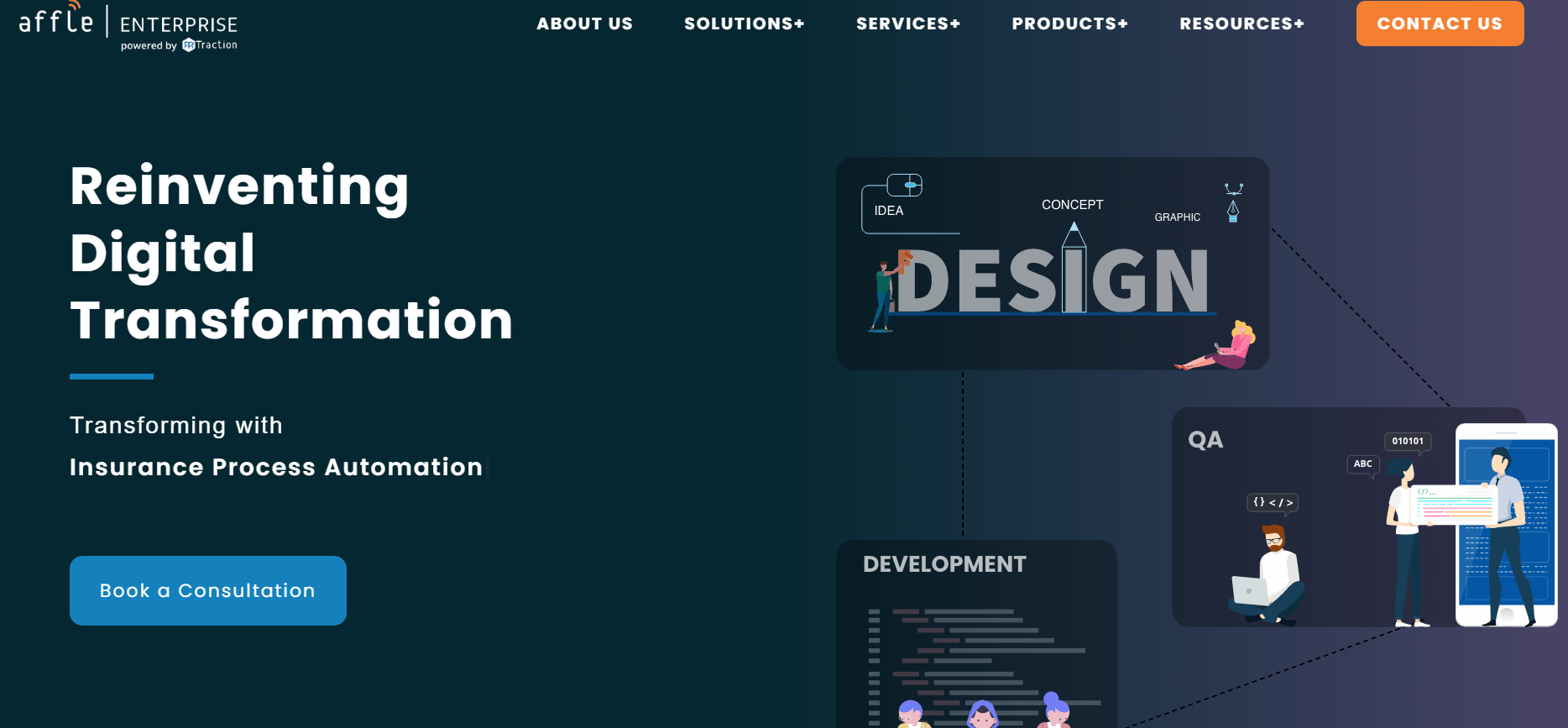 This Indian chatbot development company has over 180 engineers and boasts the ability to work on large scale chatbot projects, although they might not be able to offer such a high standard of English when compared to a team consisting of English natives.
Still, they have 15 years of experience, along with a reputation for building high quality solutions for huge international companies like Samsung and McKinsey. They've also worked with SunPharma, demonstrating their ability to work in more highly regulated industries.
BotsCrew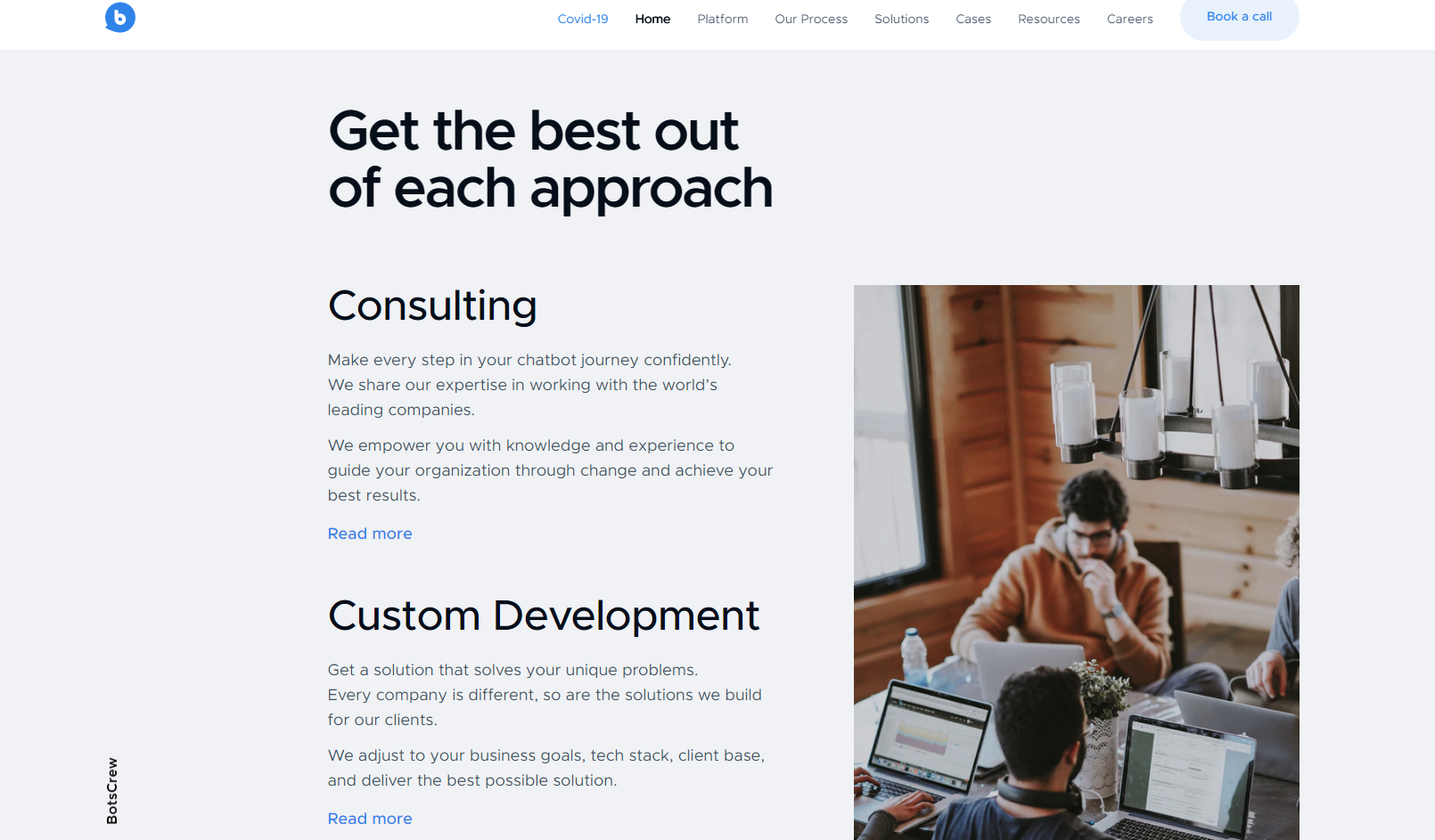 The first time we came across this company, we misread their name as "Bot Screw". Have no fear on that front though, as this crew won't screw you over. Headquartered in Ukraine and with five years in the game since their 2016 formation, BotsCrew is a decent option when you're looking to outsource to a company with low overheads and an affordable service.
As the name suggests, this company specialises in artificial intelligence bot development and has experience of working with voice technologies. On the downside, they don't have any particularly impressive clients on their books, but maybe you can be the first!
ThirdEye Data

When two eyes aren't enough, ThirdEye Data can help you out. They were founded back in 2010 and are headquartered in Santa Clara, California, with around fifty employees servicing their clients across multiple different industries.
ThirdEye is particularly worth thinking about if you work with Azure as that's one of their specialisms, although they have experience with other languages too. Their noteworthy clients include most of the tech giants including Intel, Microsoft, Google and Amazon.
Katpro Technologies

This company was founded back in 2009 and specialises in working with SMEs to bolster their in-house capabilities with app development and blockchain deployment. Their offices are in India and they're known for their work in more regulated industries like healthcare, real estate and the government. On top of these clients, they've also worked with Microsoft and Mindteck, amongst others.
ValueCoders

The clue is in the name, here. When you sign up with ValueCoders, you know that you're going to save some cash and get a pretty cheap chatbot that will still get the job done. The value isn't just in terms of the prices that they charge – they'll also help you to offer a little extra value to your customers.
ValueCoders has been in business in 2004 and has worked across a range of different industries including healthcare, retail and ecommerce. Major clients include Dubai Police and RiskLogic.
Itrex Group


This custom software company was established in 2009 and is headquartered in Belarus, with additional offices in Ukraine and United States (Los Angeles). Their software development services cover mobile apps, websites and Internet of Things integration, with customers ranging from small businesses to big multinationals. Historic Itrex Group clients include 21st Century Fox and Warner Brothers.
Nybble Group

When a big bite is too much, how about a Nybble? This Miami-based tech company does a little bit of everything, including chatbots. They were founded in 2005 and have experience working with AI, which is good news if you're looking to create an AI or hybrid bot.
Of course, the fact that they're based in Miami means that they're not going to come cheap, but it's a case of getting what you pay for and with former clients like British American Tobacco, Coca Cola and Budweiser, you know that there's a precedent for high quality work.
PixelPlex

PixelPlex is a New York City based blockchain and mobile app development company with experience building chat bots for clients like BMW, Microsoft and Oracle. As well as their American offices, PixelPlex also has offices in Amsterdam and Minsk, with just over fifty employees servicing a range of international clients. They were founded in 2007 and mostly work with enterprises in the financial services industry.
Celadon

Based in Dubai and with offices in Belarus, Celadon was founded in 2012 and has rapidly grown to a team of 70+ developers covering chatbots, custom software and web and mobile apps. In contrast to PixelPlex, the previous entry on this list, they focus on SMEs and typically work across business services, education, healthcare and medical industries. Their most notable client is HP.
Why Hire Zfort Group
Compared to the competition, Zfort Group just makes sense because they're highly skilled and affordable with a solid reputation for building world-beating chatbots across a variety of industries. They work with companies of all shapes and sizes and will happily take on custom builds with unique operating requirements.
So if you're in the market for a chatbot build but you don't know where to turn, consider giving Zfort Group a try. Get in touch with them today to find out more about how they can help you to take on the competition.
We Provide AI-Powered Solutions from Concept to Launch.